NEWS UPDATES FOR 2016!
ARE YOU READY FOR THE BEST YEAR OF YOUR LIFE?
I know I am! I am prepared to make it so! Are you?
2016 was not a great year for me! I was still recovering from my Nov 4, 2015 angioplasty and stent implant. That went well but the 10 drugs they put me on sent me into a downward spiral that has taken me almost a year to reverse! I gained almost 30 pounds, got moody, angry and depressed from time to time and I'm sure some of you felt my wrath, I'm sorry if you were a recipient! As I discovered the sided effects of all these drugs I realized they were much of my problem. So I charted the side effects and studied them and found natural alternatives that could do the same work and I'm down to two drugs and hopefully will be drug free in 2017!
Also this debacle with the leadership of Crown of St Stephens caused me great distress and anger and that too depressed me to no end! Fortunately I am surrounded by great people and they helped me through this very challenging year! I won't go into names because 1) you know who you are and 2) I would never want to miss anyone who provided comfort and support during this challenging year.
In early Nov, and especially on Nov 4th the anniversary of my heart work I became very depressed because I was told that once I had these procedures I would feel great, I would have new energy and life pulsing through my arteries and veins and that was far from the truth and I was pissed off and depressed to say the least! Because I was so sedentary I developed a very bad case of sciatica and that too was a real pain in the butt! Literally!
What is sciatica pain? The term sciatica describes the symptoms of leg pain—and possibly tingling, numbness, or weakness—that originate in the lower back and travel through the buttock and down the large sciatic nerve in the back of each leg. Sciatic nerve pain can be so excruciating and debilitating that you don't even want to get off the couch.
This is really crippling, it feels like someone ripped your leg off at the hip, reattached it, but forgot to hook up the nerve endings so you are in constant pain and your leg does crazy things, like you can be walking and your leg stops working and you literally fall on your butt!
I needed this like a I needed another hole in my head! I have so much work to do, so many people I want to help, so many projects I want to initiate and all these health and business issues plagued me for most of 2016!
So I looked in the mirror, I gave myself a checkup from the neck up, I then gave myself a mental enema, I got rid of my stinkin' thinkin' and I got back to my personal self-worth basics which are: FOR THINGS TO CHANGE, I MUST CHANGE, FOR THINGS TO GET BETTER, I MUST GET BETTER and my personal favorite, the ten most powerful words on planet earth, "If it is to be, it is up to me" I reviewed these affirmations many times a day along with the 4 wanna be's and the 4 wanna haves see: http://ucofc.info/SUCCESS!-WHAT-IS-IT.html
I started back at the gym Monday Nov 28th and have gone to the gym for the past 25 weekdays and have lost 17 pounds and three inches off my waste and have gained lots of muscle too! I'm even starting to see a 2 pack! It has been a real challenge getting up between 4:30 and 5 am, I take my pup for a walk, get to the gym and am at my desk at 7:15 am most mornings! So the extra hour workout is tiring but worth it because I FEEL BETTER! The sciatica is diminishing slowly but surely and my BP is getting better too! So as you can see I have taken my own advice and am ready to achieve personal greatness in 2017!
Business wise everything is in place for a fantastic 2017! This will be my year of victory, will it be yours?
If you want my help to get you jump started for your year of victory too, skype me and let me know what you need and want to do to make it your best year ever! I've attached the exercise program (my gift to you and yours) that I'm using to achieve the results I've gotten on the past 25 workout days! I've been using it since 2013, 2014 being my best year (see my exercise chart), then heart issues for 2015, I went sedentary and now back on track for 2016! Wait till you see me at the end of the first quarter of 2017!
I have not heard from Nora regarding Eddie's condition but I'm sure he is on the mend! I did get these two updates from Ritchie about Ben and they are very positive, see:
[12/29/2016 9:19:53 PM] Ritchie: Just spoke with Ben's wife. Ben is in ICU and doing well. Still on life support as a precaution and hopes to have him breathing on his own tomorrow and possibly sitting up. All procedures seem to have gone well.
[12/30/2016 5:06:23 AM] Gary Holmes: that's great news, thanks for the update!
[12/30/2016 1:33:07 PM] Ritchie: Ben will be in ICU until tomorrow. Today he is sitting up and talking. All seems to be going well.
Thank you Yahushua for your Divine protection and Healing Mercies and thanks to all of you who have prayed for Ben's successful open heart surgery! Please continue to pray for Eddie and Ben until they are completely recovered!
We now have all the solutions in place for digital currency conversions! So stop your whining and crying (I did) and get an IC to help you (http://www.change2100.com/THIBMART/IC/contents/en-us/d2.html ) convert your ZCASH, CHIPS and SPURT for 2017! It won't be instantaneous because we are still learning what needs to be done, but it will happen in 2017, you have my word on it! I will get the job done or die trying!
I've told you my story above to hopefully motivate you to do something about you and your situation because you are the only one that can make it happen for you!
We all get tired, despondent, sick and depressed but our Heavenly Father doesn't like a bunch of tired, despondent, sick and depressed believers! He's given us His instruction book, He's given us the tools now, all we have to do is find an IC, study the instructions and learn to do what He has in store for us all! I believe that is to build the Kingdom of Heaven here on earth until He comes again!
Please check the 2016 NEWS Updates for others requiring your prayers!
We also have one of our members trapped in the horrendous Greek financial crisis situation! She needs your help immediately, she cannot access funds to pay bills and asks for your help in this time of need, please contact her via traceygr13at Skype or myfuc13@gmail.com email
Last but not least do not miss out on DIVVEE.SOCIAL! If you did nothing else but this, you would gain income starting January 10th just by giving your opinion on APPS you review! Please sign up using this link http://tapps.co/?Div=234622 and sign up yourself and then sign everyone else under you! You can pay only $25.00 1X forever using this link so do it NOW! Starting Jan 10th it will be $50.00 annually but you can earn you way in by using your RANK and SHARE POINTS! So don't miss out on this next big wave of the future in advertising by using the RANK and SHARE concept!
This just in!
To: My Divvee Team Leaders
Subject: Great News From Divvee, Hot Off The Presses

The following youtube video tell it all. Please look it over and forward it
far and wide. I won't give you all the good information so you will have to
watch it for yourselves. Here it is:
https://www.facebook.com/divvee/videos/371281386558923/ You may have to
get to facebook but I don't know for sure.

I will publish the basic information later today just to make sure you all
got it. Tell your groups that we are going live.

Happy New Year,

Ron...
We want to announce that the promotion of $ 25 is extended until Saturday, January 7 at 12 noon, when it was shut down access to the virtual office and there will be no registrations. During those 3 days, preparatory to start paying commissions.
We have got news, we have been waiting a long time to give this news: next week we will have the opportunity to acezar programme of believes and shares. Try it and you will have the first sight, tell your whole team. Going to download apps.
Next week starts the evidence of downloads apps, please help us to help you to try and maximize the system as possible to detect any fails and fix it before the big day of January 10th.
Thanks to each and every one of you for reading this update, it is my final communication with you for the year 2016! I wish you great success in planning your best year ever and my Yahweh continue to bless us all for 2017!
Yours in success,
Gary
HAPPY NEW YEAR!
from
Dahiana and Gary
Dec 27, 2016
I hope everyone had a wonderful Christmas or what ever you celebrate! We had a wonderful family get together on Christmas Eve, always too much food but lots of fun and fellowship.
We do have some members who were not so happy due to illnesses and I would like your prayers for Lola:
My wife is back in he hospital again with pneumonia again. Please add her to your prayer list and Just to let you know I have not been able to follow up on any of my talking with people on any of the programs because I am so busy taking care of her, doing all cooking and washing clothes, and cleaning house. I don't have any energy for anything else at this time.
Clifford A Chamberlain
Lola was taken to ER this afternoon about 1:00 PM and she has pneumonia again and is having a very hard time breathing, and I do not know how long she will be in Sutter Roseville Hospital. They have not let me know what room she is in yet. Please keep us in your prayers. This is her 28th time in the hospital since 1988. As soon as I get a room number I will let everyone know. Love to all and I pray that all will have joyous and wonderful New Year.
Eddie is still in the hospital awaiting a proper diagnosis and treatment program! Please pray fervently for this to occur! I talked with him at length yesterday, he is in good spirits but longs to get back to his wife and family for the holidays and also get back to work! He's a work-a-holic like myself and has a hard time taking it easy and resting as ordered.
Ben Young our Founder and mentor is heading into the hospital today I believe for major heart surgery on Dec 29th! We all need to be mindful of the seriousness of open heart surgery and be praying for him often, thank you!
I'm available Wed, Thurs and Friday by appointment to discuss any member's plan for 2017! Contact me via Skype or email to set a mutually convenient time to meet. Otherwise enjoy this week with your family and I look forward to working with you all to make 2017 our year for funds release so many different ways! Come join our INDEPENDENT CONTRACTOR TEAM and earn even more! Talk soon!
Dec 24, 2016
Happy Saturday Everyone and Merry Christmas!
Eddie is stable, still in the hospital and still requires your prayers!
Divvee.Social Leaders,
Our awesome development team has been working day and night to get everything ready for you. Tonight, we will be releasing the new enrollment system. Over the holiday weekend, and throughout the coming weeks, we will be continually adding new features to your affiliate dashboard. Soon you will be able to verify your personal information, view your Personal Enrollment Network, and so much more! Click the button below to login and receive your personal invitation link (you will need to reset your password before getting access to your invitation link). Once you have your invitation link share it with everyone you would like on your team.
The December 31st, 2016 deadline to become a Divvee.Social affiliate for a one-time cost of $25 is fast approaching! There's only one week left. Now is the time to make sure everyone you know can share in this amazing opportunity with you.
We thank you for all the work you have done and will continue to do as we work together to build the Divvee.Social community. Let's do this!
Make sure you don't miss this $25.00USD window! I can aussure you it will be the best $25.00's you can spend! Why not give all your family this business opportunity for Christmas! You can go here:
http://tapps.co/?Div=234622
and sign up yourself and then sign everyone else under you!
Dec 23, 2016
Happy Friday Everyone and Merry Christmas!
Nora, Eddie's wife just contacted me and told me Eddie is back in the hospital! Please pray for his safety and a quick and final solution for what ails him! It is tragic that he is under the weather just before Christmas! He is really big on family and has many family that get together for the holidays. He will be missed! PRAY fervently for him, thank you!
I am working until noon Atlantic today and then I'm done until Tuesday! I wish all of you and your families the very best Christmas and we will see you all next week! Be blessed in His precious name!
Gary
Dec 22, 2016
Happy Thursday Everyone and Merry Christmas!
Eddie is alive and almost well, I talked with him late yesterday afternoon and he sounded tired but OK! His hospital stay did not go according to plan and a solution was not forth coming, that's the bad news, but the good news is they made a discovery that should lead to success soon! He is back for more tests on Dec 27th to analyze what they had found. Please continue praying for his safety and successful elimination of his health challenges! Thank you! For our ICs, he said he will power through from now to the 27th so get your FIRST TRANSACTION into me ASAP! He and I will start reviews tomorrow, Monday and Tuesday!
Here's news our Swedish Trust front: "it looks very very close!" Those were JJs exact words! He is very excited and very confident that we will have banks purchased in January and that SPURT exchange possibilities are very promising for late February to March. Remember once the banks are purchased, they have to be relicensed, capitalized, staff has to be trained and trades have to begin before profits would be available for SPURT exchange so be patient or become one! Just know, he and his team of assistants are doing everything possible to make 2017 the year of SPURT EXCHANGE!
You still have time to become an INDEPENDENT CONTRACTOR for the $550.00USD amount until Dec 31st! After the New Year it will go to $1050USD up to $5050.00USD! So a word to the wise, DO IT NOW!
This is one fabulous opportunity to learn new skills that will allow you not only to access your own digital currencies and fulfill your own projects but also help others do the same and get paid handsomely to do so! Check out this PURCHASE ORDER EXAMPLE WITH COMPENSATION:
PURCHASE ORDER EXAMPLE
1) THE PURCHASE ORDER WOULD OFFER TO EXECUTE A STANDARD REAL ESTATE CONTRACT AS MAY BE APPROVED BY TEXAS HOLDINGS, INC THAT WOULD PROVIDE FOR PAYMENT OF THE FULL VALUE OF THE PROPERTY AS SOLD TO TEXAS HOLDINGS, INC PLUS A 20% INCREASE IN VALUE THERE OF: $200,000.00 USD + 20% $40,000.00 = $240,000.00USD
2) PLUS ALL REAL ESTATE FEES ASSOCIATED WITH THE SALE OF THE PROPERTY TO TEXAS HOLDINGS, INC AND THE REPURCHASE THEREOF:
6% of $240,000.00 USD = $14,400.00 X 2 = $28,800.00USD
3) PLUS THE "PAY-IT- FORWARD" REQUIREMENTS $5000.00 X 2 = $10,000.00USD
4) PLUS COSTS OF OPENING AND MAINTAINING AN ACCOUNT WITH FIDES FOR TEN YEARS
$1000.00 set up fee + $250.00 per month X 12 X 10= $31,000.00USD
5) PLUS ESTIMATED COST OF UTILITIES FOR TEN YEARS 350.00 X 12 X 10 = $42,000.00USD
6) PLUS ESTIMATED COST OF GROUNDS AND PROPERTY MAINTENANCE FOR TEN YEARS
$200.00 X 12 X 10 = $24,000.00USD
7) PLUS ESTIMATED COSTS OF PROPERTY REPAIRS/IMPROVEMENTS $45,000.00USD
8) PLUS ESTIMATED COSTS OF NEW FURNISHINGS FOR THE PROPERTY $21,000.00USD
9) PLUS ESTIMATED COSTS OF A NUMBER OF NEW VEHICLES TO BE PROPOSED
$50,000.00USDfor van
10) PLUS OTHER MISCELANEOUS ITEMS THAT MAY BE APPROVED BY TEXAS HOLDINGS, INC.: Insurances House & Van 1000.00 X 12 X 10= $120,000.00USD
11) PLUS A CONTINGENCY FUND TO BE USED SUBJECT TO APPROVAL BY TEXAS HOLDINGS, INC $50,000.00USD
12) 50% SUPPLIER override $330,900.00USD
13) PLUS ADVERTISING CREDITS EQUAL IN FACE VALUE TO FOUR TIMES ALL OTHER ITEMS THAT WOULD BE PURCHASED USING COMMERCIAL CREDIT $240,000.00USD house + additional $752,700.00USD = $992,700.00USD AND WITH A 75% DISCOUNT
ADVERTISING CREDITS= $992,700.00US Total PO AMOUNT=$1,985,400.00USD X 2 REPURCHASE INCOME REQUIRED = $3,970,800.00USD
REFERRAL BUSINESS REQUIREMENT 16 X $992,700.00 = $15,883,200.00USD in ADVERTISING CREDIT SALES
SEE COMPENSATION BELOW:
Compensation for the above example:
1) Sponsor (only sponsor if you are an AIC) a new Real Estate Agent/Broker, out of the $550.00USD sent you as an Authorized Independent Contractor receive $100.00USD compensation.
2) From the http://www.change2100.com/THIBMART/NEED%20A%20NEW%20CAR.pdf the new Real Estate Agent/Broker/ Authorized Independent Contractor " MAY ARRANGE FOR ONE OR MORE NEW CARS FOR YOU VALUED UP TO $100,000 UNITED STATES DOLLARS TOTAL AMOUNT TO BE INCLUDED IN A PURCHASE MADE BY A CLIENT THAT ACCEPTS TO USE THE SERVICES OF THE INDEPENDENT CONTRACTOR FOR PURCHASING ITEMS THE CLIENT NEEDS USING THE TEXAS HOLDINGS, INC. 2016 BUSINESS MODEL AT NO COST TO YOU AND AT NO ADDITIONAL COST TO THE CLIENT!"
That vehicle may be sold for any amount of USD and that goes in your pocket! So what dealer wouldn't repurchase the car from you, for $80-90K, originally valued at $100K? That $80-90K goes in your pocket!
3) The initial 5 UAWS purchase provides 20% of $5000.00USD so another $1000.00USD goes in your pocket!
4) When the $10,588,800.00USD in Advertising Credits sales is revenue received by BSCC, $2,647,200.00USD is used to repurchase the Advertising Credits from the Purchase Order listed above, the remainder $7,941,600.00USD is available of which 20% $1,588,320.00USD to AICs participating in the above transaction.
5) The IC working on the above transaction may negotiate with the identified SUPPLIERS listed on the Purchase Order for a portion of the 50% SUPPLIER override. For example if the SUPPLIER is THI then you may not be able to negotiate anything but if the SUPPLIER is the property owner you have the ability to negotiate from 0 to 100% of the 50% SUPPLIER override! So let's just say you negotiated 50%, that would be 50% of #12 $330,900.00USD= $165,450.00USD.
Total of all Compensation:
1) $100.00USD SPONSOR compensation
2) $80,000.00USD from the resale of the vehicle (NEGOTIABLE)
3) $1000.00USD for the 5 UAWS
4) $1,588,320,00USD 20% of the Advertising Credits sales revenue
5) $165,450.00USD 50% of the 50% negotiated with the SUPPLIER (NEGOTIABLE)
TOTAL: $1,834,870.00USD! This is for only one property!!!!! You could easily learn to do one a month!!!! If it took you the whole year to learn how to do this and you only did one your first year that is still better than any other business opportunity out there!
IF THAT DON'T LIGHT YOUR FIRE, YOUR WOOD'S WET!
So if you are finally getting the big picture and want an exciting and profitable career with at least $10K USD a month draw against future earnings not is the time to get started and make 2017 your best year ever! Contact me via email at gdh@legacyassurance.net or Skype at garydouglas2015 or financialhope, now is the time to take action!
DIVVEE.SOCIAL is making progress and hopefully will be back online soon so you can get on board for the one-time fee of only $25.00USD payable by credit card. They now have their new site up but it is not fully functional yet but I will announce it here as soon as it is! STAY TUNED! YOU DON'T WANT TO MISS GETTING PAID FOR YOUR OPINION!
Here's some very interesting health news from Youngae, please take a look and if you see a need make contact! This is working well for her husband!
Here is her Skype to me from yesterday:
Hi Gary. It's been a while since we talk. I have not been active because my husband has been fighting with his health challenges. I was busy trying to help him fight his possible colon cancer and other issues. Since I don't believe in MD, we have been using natural way to heal his problem and he is doing so much better. While I was searching to help him I found the scientist who developed a "science fiction like" healing device. I am sending you this message because I believe that everyone should use his FREE 15 day service. All you have to do is register and send him picture and that's all you have to and many people especially who has infectious disease benefits tremendously. Website address is http://www.creativestrength.us . Please also spread this to our members. There is no obligation for anyone. I have been using this about a week and a half and I feel so light and clear. My sister also has amazing results too. My husband does not feel much yet but his enzymes amount in his body started increase.
I don't gain anything by sharing this information. I am sharing it to just help people who suffer from illnesses because of incompetent modern day doctors.
I've personally reviewed the site and will be signing up after I finish posting this update as I need help with high blood pressure, what's ailing you?
December 21, 2016


Santiago, Chile

In the late 1400s, the city-states of Italy were among most dominant powers in the world.

Most of the city-states had abandoned the feudal system that persisted across Europe.

So Italy was one of the only places on the continent where anyone, including foreigners, could work hard, take risks, and become wealthy.

People could start businesses and own private property-- revolutionary concepts in the 1400s.

Italy was truly the America of its day, and people from all over Europe flocked to the city-states in search of wealth and freedom.

Scientific, medical, and technological advancement flourished, as did commerce and banking.

The Medici Bank in Florence was by far the largest bank in Europe in the 1400s, and they helped popularize a double-entry system of accounting and the widespread use of credit, both of which still define modern banking.

Early Renaissance banks realized that hauling giant bags of gold coins across the countryside to settle payments with one another was expensive and risky.

Instead, every time they made or received a payment, the banks would adjust their accounting ledgers and then periodically get together to make sure everyone's numbers matched up.

Italian banks perfected this technique and developed a comprehensive set of accounting rules that everyone followed.

When the bank Monte dei Paschi di Siena was founded in 1472, they adopted this system as well.

What's interesting is that Monte dei Paschi di Siena still exists today (just barely).

And they're basically still using the same system.

Despite all of our modern technology, commercial banking has changed very little over the past 5+ centuries.

Even today, whenever banks transact with one another, they're merely making accounting entries in their ledgers.

It's not like there's actually any money that changes hands. Banks don't FedEx cash or coin to one another to settle up. It's all just digits on an electronic balance sheet.

The biggest "advance" in modern banking has been the involvement of government and central banks.

Back in the Renaissance, banks spent years building up a solid reputation as conservative, responsible custodians of other people's money.

They had to earn their customer's trust the old-fashioned way. It wasn't handed to them by some government agency.

Today, few people give a single thought about their bank.

We've been programmed to sign over our life's savings to a complete stranger simply because the government says it's OK.

That same government has lied to us about everything else imaginable, ranging from the existence of Weapons of Mass Destruction to whether or not he had "sexual relations with that woman."

Yet this government-sanctioned trust is routinely abused.

Hardly a month goes by these days without a major banking scandal.

Wells Fargo is in the spotlight right now for having fraudulently manufactured new accounts without customers' consent (and then charging FEES on top of that).

And right this moment Wells Fargo is scrambling once again for submitting a questionable solvency plan to the Federal Reserve.

But that's just the tip of the iceberg.

Banks have been caught red-handed colluding to manipulate interest rates, exchange rates, and commodities prices.

They force law-abiding customers to jump through bureaucratic hoops to prove that we aren't criminal terrorists, but then giant banks like HSBC and Barclays literally do business with terrorist groups.

They maintain very loose controls, allowing "rogue traders" to lose billions of dollars on stupid bets.

And they maintain a strict culture of secrecy.

As depositors, we don't have the foggiest idea what our banks are actually doing with our money.

Their financial statements provide cursory summary numbers for categories like "LOANS" or "INVESTMENTS".

But there's no detail for us to see whether those loans and investments are safe and conservative… or whether they've put our savings in danger once again.

Banks also notoriously abuse accounting tricks to massage their numbers and hide losses.

One common technique that banks have used over the last few years is reclassifying their bond investments.

Typically a bank has to report the gains and losses of its bond investments each quarter.

But banks have the option to reclassify their bond investments into a different category called "hold to maturity," in which they no longer have to report the losses.

As you can imagine, when bond values decline, many banks conveniently reclassify their portfolios, thus hiding the losses.

Amazingly enough, this deceit is totally legal under modern accounting rules.

Look, I'm not suggesting that banks are about to collapse. Some of them are in great shape.

And others… yeah, they're about to collapse. Like Monte dei Paschi di Siena, and most of the rest of the Italian banking system.

What's important is to realize that banking is a black box with zero transparency, NOT the risk-free fantasy that we have been told.

We can see this right now in Italy.

If a bank goes under, shareholders will be wiped out first.

But as a depositor, you're actually a creditor of the bank-- an unsecured creditor who has nothing more than a claim on your account balance.

Most countries, including Canada, the United States, and most of Europe, have passed "bail-in" legislation to penalize a bank's creditors in the event they collapse.

Europe's Union Bank Recovery and Resolution Directive became effective on January 1st, and the Federal Reserve is issuing a new bail-in rule next week.

So, depositors can be on the hook for a bank's losses as well, just as we saw in Cyprus back in 2013.

Depositors are supposedly protected by deposit insurance like the FDIC.

But a single bank failure can easily wipe out these insurance funds (which happened in 2008).

And most governments are now too broke to recapitalize them.

Bottom line: It matters where you put your money. They evidence is pretty obvious that banks are not risk-free.

Why take the chance?

You can quickly mitigate these risks at practically zero cost by holding a portion of your savings in a safer, better capitalized bank… or outside the banking system in physical cash or gold. OR OUR DIGITAL CURRENCIES AND PROTOCOLS!
Until tomorrow,
Simon Black
Founder, SovereignMan.com
Dec 19, 2016
Happy Monday Everyone!
We are entering the holiday season and I'm excited about 2017 already, there is so much good news!
All that should have happened this year that didn't because the Crown tried to destroy us has now been rebuilt within the http://www.change2100.com/THIBMART/ and these protocols will definitely happen in 2017 for anyone who does the work!
Several INDEPENDENT CONTRACTORS are on their way to receive serious funding from the interim financing that is now available for submitting their FIRST TRANSACTION! They are all busy compiling their submissions for this week and those that are accepted will have funds to operate as a REGISTERED/AUTHORIZED INDEPENDENT CONTRACTORS full time starting in mid-January 2017! What does that mean to you? Well you will be able to review the ICs on this list: http://www.change2100.com/THIBMART/IC/contents/en-us/d2.html and contract with them to assist you in using your ZCASH, CHIPS and SPURT! I hope you will chose those ICs that are under BRIGHT STAR CALL CENTER as they are getting more training that anyone else on the list! Make sure you ask what Call Center they are working with when you contact them!
It's not too late to request becoming a REGISTERED/AUTHORIZED INDEPENDENT CONTRACTOR; you have until Dec 31st to enter into the program with only $50.00USD via PAYPAL and $550.00USD wired to the MASTER CALL CENTER. If you are not already a member of UCofC/MF&GC/ICC and hold ZCASH, CHIPS and/or SPURT your entry fee is $50.00USD plus $1050.00USD. After Dec 31st it will be a minimum of $1050USD to $5050.00USD so get in now at the reduced UAWS fees! Contact me at gdh@legacyassurance.net or Skype at garydouglas2015 or financialhope and tell me what your plans are! You will undergo ongoing training on the various protocols and will be able to do a FIRST TRANSACTION providing you the necessary capitalization to have funds available immediately to support your full time effort! http://www.change2100.com/THIBMART/FIRST%20TRANSACTION.pdf
Excerpt: DETERMINE HOW MUCH WORKING CAPITAL YOU NEED PER MONTH
•SUPPOSE YOU NEED $10,000 UNITED STATES DOLLARS PER MONTH...
•...IF YOU NEED $100,000... $1 MILLION... $1O MILLION... $100
MILLION... OR $1 BILLIONJUST INCREASE THE NUMBERS!
•...YOU CAN MAKE IT HAPPEN! Let me show you how! Secure your future now!
We also have several properties coming into the http://www.change2100.com/THIBMART/MAKING%20PROPERTY%20OWNERSHIP%20PROFITABLE.pdf and there will be PROOF POSITIVE in 2017 that these protocols work!!!!
So get studying and be ready to choose the IC that you want to have help you utilize your ZCASH, CHIPS and SPURT!
http://www.change2100.com/THIBMART/ZCASH%20-%20CHIPS%20LEDGERS.pdf
http://www.change2100.com/THIBMART/SPURT.pdf
We are at a place in history where you are the only person stopping you from achieving great abundance in 2017! So no whining and crying will be accepted "that nothing works!" LOOK IN THE MIRROR, YOU DON'T WORK!
I'm still waiting for an update on our Swedish Trust and will report that information as soon as I receive it!
On the DIVVEE.SOCIAL front they are offline doing major back office work and have posted these updates for your review!
To: My Team and Others
Subject: Upcoming Google Hangout
I would like to take this time to discuss the recent email from Divvee Admin, Tuesday December 13th pertaining to the current "Power-Down" in progress. They have stated in the past that when they were ready to launch the new system so that we could test it, it was stated that a brief power-down period would be needed. We are now in that period and all members should be poised to take advantage of this time to review their membership and focus on expansion and be ready to test it.
This is the main reason for this email, on Thursday evening, if past history predicts the next activity, we should receive notice of the next Google Hangout. At the last Hangout, they said that good things would be coming and the video link below released yesterday discusses this somewhat. It is an executive overview of what could happen, although there are no specific there are some indications for the "astute" observer. Watch for the Google Hangout notice from Admin, I will forward it to all once I see it.
Here is the video link… https://www.youtube.com/watch?v=nlU9aw6xIIU
To: My Team and Interested Free Members

Subject: Divvee Hangout

Unfortunately, we haven't seen an announcement for the Divvee Hangout this evening. However, there is a recent discussion video introducing the new CFO on this video, Derrick Schutz. Remember, as Divvee adds more management for the large tasks ahead, startup moves closer and closer. "Gather your flocks"
and get ready to move!!!
Here is the video link: https://youtu.be/o8kXeO4pavI
Please share this with your teams and as I get more information I will pass
it along. We are getting ready!

To: Ronvan Divvee Team and Members
Subject: Divvee Update #3

This is the latest in information from Admin...the message here is to delete
any and all Divvee advertisements where ever they exist. Please take 5
minutes and watch this latest update here:
https://youtu.be/kYBTOqii58Q
Please pass this on to your team members and anyone you know that is
advertising on any social media.


Divvee.Social Affiliates
So many of you are working so hard to share the vision that is Divvee.Social. We love it! And we appreciate it. As with anything in life, however, it is important that we do so in the correct way.
Right now there are numerous websites, posts, comments, and videos about Divvee.Social, Rank & Share, and other corporate brand elements that create brand confusion and potential legal issues. For those reasons, we need to clean up what is found in the public domain.
Therefore, we require EVERYONE to remove ALL media from places like YouTube, Facebook, Twitter, Instagram, websites, and other similar media outlets. In other words, if our Compliance team can find any content that does not belong to corporate, it is not allowed; and failure to remove them may result in disciplinary action as outlined in our Policies & Procedures.
In the future, we will be in a position to review requests from you and your teams to share the opportunity in all of those media outlets. However, at this time in cannot be done in any public form.
To share any information regarding Divvee.Social, simply provide your personal link and keep all other discussions private or out of the public domain.
We appreciate your compliance and professionalism in this matter.
Divvee Corporate Team
I will provide an update ASAP when you can once again join for the onetime fee of only $25.00USD until Dec 31st! You don't want to miss this opportunity to get paid for your opinion!
I would ask you to pray for Eddie, he's going into the hospital Tuesday Dec 20th for surgery at 11 am mountain time and with your prayers should be home on Thursday, Friday at the latest! Also mark on your calendar Dec 29th and pray for Ben Young's open heart surgery!!!! We need our leaders back ASAP so please pray for their safety during surgery and their complete recovery!
I will be taking some time off during the holidays but will be checking email and Skype daily and will respond as quickly as I can to your questions and requests. I pray that each and every one of you have a very Merry Christmas and enjoy and love your family!
Gary
December 15, 2016


Santiago, Chile

On January 17, 1917, as the Great War raged in Europe, the government of the United States signed a deal to purchase the Virgin Islands from Denmark.

The agreement transferred Denmark's territories in the West Indies, "including the islands of Saint Thomas, Saint John and Saint Croix together with the adjacent islands and rocks."

Good thing they picked up those rocks!

The US government paid "a sum of twenty-five million dollars in gold coin of the United States."

$25 million was clearly a lot more money back then than it is today.

But given the change in the gold price over the years, $25 million worth of gold in 1917 is valued just under $1.5 billion today.

That's still an amazing deal.

It means that, adjusted for inflation to 2016 dollars, the US government paid about $175 per acre for the Virgin Islands.

Today, an acre of land on one of the islands could easily set you back around $400,000.

So the USVI purchase ended up being a pretty solid return on investment.

Of course, that was an era when the US government made lots of astute deals.

They bought the Louisiana territory from Napoleon in the early 1800s for peanuts, a price equivalent to about 40 cents per acre when adjusted for inflation to 2016 money.

They bought Florida from the Spanish, Alaska from the Russians, etc. All of these were phenomenal purchases.

Today they spend billions of dollars to build a website. The inefficiency and incompetence is almost unbelievable.

It's also important to note that the Virgin Islands purchase was transacted in gold during a time when gold was still money.

Today, debt is money. Literally.

Look at a $1 bill, for example. It says "Federal Reserve Note."

"Note" is just another name for debt in finance and accounting parlance.

The US dollar was originally defined by the Mint and Coinage Act of 1792 as 24.1 grams of pure silver.

Today's dollar is simply a liability of the Federal Reserve. It's debt.

Debt is also money at an institutional level.

For example, US government debt, all $19.9 trillion of it, is considered a "cash equivalent".

That's an accounting term which means that if you have $1 million in US government bonds, it's the same as if you had $1 million at a bank, or even in physical cash.

US government debt is commonly held by commercial banks, central banks, large multinational companies, and even foreign governments as a type of cash reserve.

And it's not unusual for these institutions to transact with one another using US government debt as a form of payment or collateral.

Large institutions will settle transactions and literally "pay" each other with US government bonds in the same way that you hand a $5 bill to the barista at Starbucks to buy a cup of coffee.

So US government debt is a widely-accepted medium of exchange, i.e. form of money.

This is incredibly bizarre, especially given how rapidly the US government is increasing its debt.

As of today, the US national debt is $19.9 trillion. And that's up from $19.6 trillion on October 1st when the 2017 fiscal year began.

In other words, in the last ten weeks alone, the US government increased its debt by more than 200x the amount of money that they spent acquiring the Virgin Islands in 1917, even after adjusting for inflation.

And there's no end in sight for this trend.

This coming Monday and Tuesday, the US government will auction off and issue another $52 billion in new debt over the course of just two days.

And as this chart from the Treasury Department shows, they have over 100 debt auctions scheduled just over the next 3 ½ months.

It just never stops.

The frequency, magnitude, and speed with which they're piling on debt has been a VERY long-term trend.

And it's one that is not possibly sustainable.

Just look at how quickly interest rates have jumped. Back in July, the yield on 10-year Treasury notes was 1.32%.

Today, just a few months later, it's double that level at 2.63%. And that's still incredibly cheap by historical standards. Rates could go much higher.

Higher interest rates increase the government's borrowing costs. Higher borrowing costs mean more money is needed to pay interest.

Bear in mind that the US government's budget has been deeply in the red for DECADES.

They have to borrow money just to pay interest on the money they've already borrowed.

So as interest rates rise, they'll have to borrow even MORE money to pay the additional interest.

And that additional borrowing will mean that they'll have to pay even MORE interest, which means they'll have to borrow even MORE money...

This cycle is pretty obvious. And given the rapid rise in interest rates, it may have already started.

Look- I've written about this before. It's fine to hope for the best. And hope seems to be at a multi-year high in the Land of the Free right now.

US consumer confidence, at least according to the government, is at a nine year high.

Markets have soared, pushing investor confidence to all-time highs.

Confidence is great. Success is even better.

But it's dangerous to let emotion take hold, willfully ignore these trends, and blindly hope that this desperate cycle of debt and incompetence will somehow have a consequence-free, happy ending.

Whether that reckoning occurs today, tomorrow, or five years from now is totally irrelevant. Maybe it never happens.

But it's hard to imagine you'll be worse off for taking perfectly rational steps to distance yourself from the consequences of such an obvious trend.

Until tomorrow,
Simon Black
Founder, SovereignMan.com
Dec 14, 2016
Here's a Corporate Update from DIVVEE!
Divvee.Social Leaders,
We continue to be amazed with the work that you and your teams are doing, especially since we are still in start-up phase as a company. The energy and growth happening all over the world is simply unparalleled, and it fully illustrates the power of social media, word of mouth marketing, and the role we all have as Influencers. Here at Divvee.Social Corporate we are working overtime to keep up with all your incredible efforts.
We've been telling you about all the hard work behind the scenes to improve our processes and systems today we are excited to announce that it's time. We have some incredible technologies to roll out. But in order to add the final touches we need to power down access to all Divvee.Social services. This power-down will begin tomorrow, December 13, 2016, at 12:00 PM Mountain Standard Time. This brief interruption is temporary and necessary, and it will allow us to finalize many of the key enhancements that you have requested, and we know you and your teams are going to LOVE them.
To make sure you are up to speed on this process every step of the way, we are committed to daily updates while the system is down. Watch for videos, emails, and social media communications from our CEO, Founders, Chief Technology Officer, and Chief Relationship Officer. In fact, we are going to tell you all the details of this next step tomorrow, 12 pm MST, in our first ever Executive Update Video! These videos give us the opportunity to keep you informed; so, be sure you tell your leaders and your teams to tune in tomorrow and that good things are coming their way.
Divvee Corporate Team

Divvee.Social Líderes,
Estamos asombrados con el trabajo que usted y sus equipos están haciendo, especialmente por lo que todavía estamos en las fases iniciales como empresa. La energía y el crecimiento que suceden en todo el mundo es simplemente incomparable, e ilustra plenamente el poder de los medios de comunicación social, la comunicación de su voz, y el papel que todos tenemos como influyentes. Aquí en Divvee.Social Corporativo estamos trabajando día y noche para mantenerse al día con todos sus esfuerzos increíbles.
Hemos estado hablando de todo el trabajo duro detrás de escenas para mejorar nuestros procesos y sistemas hoy estamos muy contentos de anunciar que es el momento. Tenemos algunas tecnologías increíbles para desplegar pero para agregar los toques finales necesitamos apagar el acceso a todos los servicios de Divvee.Social. Esto comenzará mañana, 13 de diciembre de 2016, a las 12:00 PM hora estándar de la montaña. Esta breve interrupción es temporal y necesaria, y nos permitirá finalizar muchas de las mejoras claves que usted ha solicitado, y sabemos que a usted y a sus equipos les va a encantar.
Para mantener a todos informados de este proceso y cada paso del camino, nos comprometemos a darle actualizaciones diarias mientras el sistema está inactivo por medio de videos, correos electrónicos y comunicaciones de medios sociales de nuestro CEO, los Fundadores, el Ejecutivo de Tecnología y el Ejecutivo de Relaciones. De hecho, vamos a contarle todos los detalles de este próximo proceso mañana, a las 12 pm MST, en nuestro primer Video de Actualización Ejecutiva! Estos videos nos dan la oportunidad de mantenerlo informado; Así que, asegúrese de decirle a sus líderes y sus equipos que nos acompañen mañana y que las cosas buenas están llegando a su manera.
Divvee Equipo Corporativo
Dec 12, 2016
Happy Monday Everyone!
Here's another DIVVEE update from Ron my sponsor!
To: My Team Leaders & Interested Parties
Subject: THE DANGERS OF NON RECRUITING OR ONLY RECRUITING 1 OR 2
MEMBERS

In reviewing my group numbers this evening I have to bring up a very
important subject, "Building Your Organization". There are two major events
which will affect your ability to secure a good income with Divvee when we
launch January 10, 2017. Those two items are the "5-10-20" rule and
"Dynamic Compression". By not paying attention to these two very important guidelines, your ability to earn is drastically reduced causing you to repeat the Rank & Share process, possibly more than you would like and earn less than the maximum possible which leads to frustration and quitting.

First the "5-10-20" rule, I have discussed this before and what it means is
this. From now until we go through the launch on January 10th we will be
given 20 Apps a day to Rank and Share very soon, just as if we had recruited 10 or more members to our organization. After the launch, the 5-10-20 rule will take effect. If you have sponsored less than 5 members you only get 5 Apps a day, less than 10 but more than 5 members gets you 10 Apps a day and over 10 gets you 20 Apps a day. If you use the maximum number of devices of 5 and have an organization of 10 or more, you will be able to acquire 100 points a day which is a $100 gift card of your choice. You make the choice which fits your lifestyle the best, as for me....this is money with little effort. However to each his own....

As for Dynamic Compression, Please Please watch the first 15 minutes of this video, it explains the whole concept and if you want to see the entire
compensation plan, then watch the other half of the video. It is very easy
to acquire $1000 or more a month using this system of Gift Cards and then
recruiting others to do the same. Just watch this video....and as an aside,
when you go to You Tube put Divvee into the search engine and check out any video from the large number that are available. A word of caution, Divvee changed the entire program about mid October because of many factors, so any video on Divvee that is more than 2 months old, take it with a grain of salt. Here is the video that makes the difference

Video rank and share https://www.youtube.com/watch?v=psgi8UAUrRM

Thanks for your time and please take this message very seriously....it means everything to your future success.

Regards,

Ron....
December 12, 2016
Santiago, Chile

One of the best books I've ever read is the autobiography of Charlie Chaplin.

That's probably not what you were expecting. But it's true.

Chaplin's book is a remarkable story of his impoverished childhood in England, subsequent migration to America, and rise to wealth and worldwide stardom.

Chaplin lived the textbook American Dream.

He came from nothing, took huge risks, and leveraged his tremendous talent, hard work, and pioneering spirit to become successful.

But that was the early 1900s. And Chaplin's was a different America.

Today the desire to live the American Dream still persists. And of course plenty of people still become famous or successful.

Ironically Barack Obama is a great example-- a mixed race guy who came from nothing to eventually become the President of the United States.

But for the average person, the American Dream is rapidly fading.

It's not just about wealth and fame, after all. For many people, the American Dream means owning their own home, starting a business, or seeing their children do better.

But the hard numbers show that each of these elements is in decline.

1) Children are doing worse than their parents, not better.

We already know the sad story about student debt levels reaching yet another all-time high.

But there's some interesting new research released just last week from Stanford University comparing income levels between parents and children to see who was earning more money by age 30.

For example, the research shows that, when adjusted for inflation, 91.54% of people who were born in 1940 were earning more at age 30 than their parents did at the same age.

Conversely, just 50.03% of people born in 1980 were earning more at age 30 than their parents did at the same age.

The study shows a long, steady decline in income, concluding that:

"Children's prospects of achieving the American Dream of earning more than their parents have fallen from 90% to 50% over the past half century."

2) Income and upward social mobility are stagnant

There's a lot that's been written about America's "wealth gap", sometimes known as wealth inequality or income inequality.

In other words, the vast chasm between rich and poor in the Land of the Free is at a level not seen since the Great Depression.

That sounds really bad, and it's been enough to fuel a populist movement to tax the rich and redistribute wealth.

I'd respectfully point out, though, that when it comes to finance, equality is a bullshit ideal to strive for.

There will always be people of different talents, and different talents yield different rewards.

I'm never going to be able to run as fast as Usain Bolt. He has the natural talent, so he's going to win all the gold medals.

I shouldn't expect someone to pass a law restricting how many medals Bolt can win, nor demand that they give me a medal just for participating.

But… and this is a big but… I –should- be able to take matters into my own hands.

As long as I have the will and desire, I should be able to wake up at 4am every day to hit the track.

I might not break any world records. But with time and effort, I will get faster.

And that is precisely the point.

America used to be the place where people who worked hard could achieve higher incomes, become wealthier, and move up in life.

This is known as income or social MOBILITY.

Sadly, this is also in decline, and the trend has been heavily documented over the years.

The most recent research published earlier this month measured the increase in people's income between two distinct 34-year periods in the United States.

Between 1946 and 1980, for example, the average American's income increased by 95%.

Between 1980 and 2014, however, the average American's income increased by just 61%.

For the poor and middle class, though, the numbers were even worse.

Between 1946 and 1980, income for the bottom 50% more than doubled. But between 1980 and 2014, their income increased by just 1%.

Similarly, middle class incomes increased 105% between 1946 and 1980. But between 1980 and 2014, middle class income increased just 42%.

For the top 1%, incomes increased 47% (below the average) between 1946 and 1980. But between 1980 and 2014, their incomes increased 205%.

The numbers paint a pretty clear picture: America is rapidly becoming a country where, if you were born poor, you'll die poor. And if you're born rich, you'll die rich.

This is banana republic stuff… the exact opposite of the American Dream.

3) Home ownership is at its lowest level since 1965

Another part of the American Dream is owning your own home, hence 'a man's home is his castle.'

That too is fading, according to US Census Bureau statistics which show that the US home ownership rate is at its lowest level in more than 50 years.

Now, I'm personally in the camp that renting a home is not some terrible curse. It provides more flexibility and less maintenance hassle.

But the numbers show that the decline in home ownership doesn't seem to be a choice so much as it is a necessity.

Home prices are now rising much faster than income levels. And given that the average American has less than $5,000 in savings, coming up with a down payment is nearly impossible.

Given the recent rapid rise in interest rates, this trend will likely persist.

This list goes on and on.

The number of new businesses being created is shrinking.

People have to change jobs much more frequently and supplement their income with 'gigs', rather than having a lengthy career.

Retirement savings is at appalling low levels.

However you define the American Dream, it's fading.

And it's time to acknowledge the American Reality.
Until tomorrow,
Simon Black
Founder, SovereignMan.com
Dec 11, 2016
We now have an introductory email in SPANISH for DIVVEE.SOCIAL! Check it out in the DIVVEE.SOCIAL link in the left hand tool bar. Also be sure to change the sign up link at the bottom to yours from Dahiana's! This awesome opportunity is a great Christmas gift! I've provided it for my family and include 500 business cards to get them started! All they have to do is find people with SMART Phones and ask them if they would like to be paid to use their phone! When they ask how they tell them the DIVVEE story and leave them a card, what could be easier?
WHY HAVEN'T YOU JOINED YET? This is going to be a real money maker! Don't tell me you already have enough money! Don't tell me you don't have a computer! Don't tell me you don't know people who need more money! Tell me you get the picture and are joining NOW! $25.00 USD 1X for a business that can add $200.00 to $2000.00 extra a month just for reviewing APPS and telling people how to earn extra money giving their opinion, what an awesome deal! You've got til Dec 31st to save up your $25.00USD but in the meantime be telling your friends about this so they can join under you before the 31st! DO IT NOW, DON'T MISS OUT!
Dec 8th, 2016
I just can't understand why some members can't follow instructions!
When I say "DO NOT CONTACT SPURT ADMIN" I MEAN DO NOT CONTACT SPURT ADMIN!
I have recommended to Irene that anyone who continues to pester her regarding debit card information that they be put at the back of the line!
STOP CONTACTING HER!
Here is her request once again!
MySPURT Admin needs your help and Co-operation NOW! Please go to the link below and watch all videos but especially the fourth one on how to add your address and phone number. Don't forget the Country code, which is for US and Canada 1 and add, as in the example a + (PLUS) before the one, that is how country codes are provided, as shown in the example.
http://myspurt.org/information/tutorial
Don't forget to add your NAME by going to "Edit" in the addresses along with your phone numbers too. Check if you did that correct. The name is not needed in the Account (login) but in Addresses section. So once again, name, complete address that you could receive a document package to and your phone numbers as well!
This information is needed because MySPURT needs to know who their clients are. In the future, a passport will be required too. But it is also needed in case MySPURT would be ready to send physical things, like a Debit Card.
Do NOT contact MySPURT or me about when the cards will be available, because that information is not yet available.
MySPURT needs to have all information about their clients.
Thank you
For those of you who could not attend last evening's webinar #10 here it is for your review!
This is all about becoming a BRIGHT STAR CALL CENTER registered/authorized INDEPENDENT CONTRACTOR! You only have until Dec 31st to join at the ridiculously low entry fee of $550.00 USD for members and $1050.00 USD for non-members! January 1st it goes up to $30,000.00 or maybe even more! It is definitely worth more so don't be shocked if you see increases coming! If the IC opportunity is not for you and you don't enjoy the learning curve and income potential please draw upon your "Six Degrees of Separation" and contact those people you may feel have the skill sets to join with us! I know of no opportunity that offers a $10K USD draw against earnings and I'm sure there are many sales professionals that would love to hear about this fabulous opportunity! So contact your Real Estate agent, your Stock Broker, your Insurance agent, your Commodities Broker, Non-Profit Organizations, Foundations, Trusts, Hedge Funds, Private Banks, Investment Banks, Commercial Banks, Municipalities, any Taxing Authority, public and private firms of any size, as well as private individuals! Thank you in advance for your efforts to contact your circle of influence! Remember YOU must be a part of your own solution! If you want your SPURT, ZCASH and CHIPS to be usable for you, help us help you by doing this search with and for us all!
DIVVEE UPDATES: This is amazing and you need to participate to take advantage of all thse wonderful benefits that will be available after Jan 10th's launch!
I was informed today by an upline in Divvee of the following information. I received this information because of questions raised by other members. Here is that information:
1. How many organizations or companies are involved with Divvee with respect to Digital Gift Cards? 47 have been accepted, they are as follows: Amazon, Applebee's, Banana Republic, Barnes & Noble, Bass Pro Shops, Outdoor World, Bath and Body Works, Belk, Best Buy, Bloomingdale's, Buca di Beppo, Cabela's, Charity Choice, Cracker Barrel, Crutchfield, CVS Pharmacy, Darden Restaurants, GAP, The Home Depot, Home Goods, IHOP, iTunes, JCPenney, Kohl's, L.L. Bean, Land's End, Logan's Roadhouse, Long Horn Steakhouse, Lowe's, Macy's, Marshall's, Olive Garden, Outback Steakhouse, Panera Bread, Papa John's, Red Lobster, Regal Entertainment Group, SpaWeek, Staples, Subway, Target, Texas Roadhouse, TJMax, Trevi, Uno Chicago Grill, Wal-Mart, Yard House.
2. Are there any other companies involved? I have been informed that there are currently 1,500 companies that have made their Gift Cards available to our membership. These cards will be made available in the Plastic Format and can be acquired through the Redemption Center within the new home office website which Microsoft has provided once we launch January 10th.
3. The other big question that was put forward was of course, MONEY and when and how do we get paid? We will be able to generate cash flow after January 10th from those whom you sponsor as they accumulate their own point totals, see the attachment for further information. Meantime, we can acquire points (soon) to exchange for digital Gift Cards and offset expenses using digital debit cards for everyday expenses. You can use these digital gift cards for expenses such as, gas, groceries, clothing, pharmaceuticals etc. Save up points and trade them for a new top of the line Cellphone (1,500 points), use points to pay your monthly cellphone bill (100 points), use points for Divvee TV (2000 channels available), free all-expense paid (including travel) trip for one week in Cancun (5,000 points) and other exciting promotions coming.
4. For those who haven't understood or realized the Divvee movement, go to You Tube and type Divvee in the search box and select any Divvee video you like and check out what others are saying. My advice is to have any and all of your social contacts look at You Tube, then have them spend $25 for a life time membership now (before Dec 31st) and never be charged again. Then tell them that they will re-coop that much in the first day after the prelaunch start in digital gift cards.
5. Additionally, here is a way to estimate your earning possibilities. Most of you have seen the attached spreadsheet previously, however I am providing it once again with some additional graphic guides to the new members and those who ignored previous instructional emails…just input your own numbers in the right hand column and it will calculate your possible earnings….enjoy!
Thanks for your attention and good luck with Divvee. Again, if you have any questions do not hesitate to contact me and I will help.
Ron
Here is Ron's income calculator and my business card sample.
​ PERSONAL ESTIMATOR FOR DIVVEE SOCIAL COMP PLAN.xls
​ DIVVEE BUSINESS CARD FOR APPROVAL.jpg
Here's some more good reasons you need to be ACTIVELY INVOLVED in all of what is available to you!
December 7, 2016
Santiago, Chile

In Venezuela, hyperinflation has become so pitiful that shopkeepers are no longer bothering to actually count money.

Instead, they're weighing it...

... as in literally pulling out a scale and weighing giant stacks of money. Do you want to buy a bottle of Coca Cola? That'll be 1 kilo of currency please.

One shopkeeper interviewed by the Guardian newspaper said he's piling up bricks of cash so quickly he feels like Pablo Escobar.

And yet Venezuela's hyperinflation continues growing worse; those bricks of cash are buying less every week.

This is an important lesson.

Throughout history, human beings have used countless forms of money.

Many of the ancients used commodities like silver or salt. The feudal Japanese used rice. The island natives of Yap used enormous stone wheels.

Today we use physical pieces of paper and electronic digits in a bank account. Large financial institutions and governments use bonds.

Each of these is (or was) a form of money.

But regardless of the form, money is only credible as long as everyone agrees that it has value, i.e. there's a large enough market size of people willing to use it.

This fundamentally comes down to trust and confidence.

But Venezuela's example shows how quickly that very thin veneer of trust and confidence can shatter, plunging a country into chaotic hyperinflation.

We've discussed many times before that cash, specifically physical currency, is a good asset to own.

Physical cash eliminates a LOT of counterparty risk. There's no more middleman banker standing in between you and your savings.

This has a lot of benefit.

If it turns out that your bank has been making idiotic bets with its customer's deposits and runs into serious financial problems, you'll have at least a portion of your savings in physical cash, so you'll be unaffected by their stupidity.

If you live, in the words of that great American hero Homer Simpson, in the Sue-S-A, your bank account can easily be frozen or levied in a lawsuit.

So holding some physical cash ensures that you still have a way to put food on the table for your family.

There are so many reasons to keep some savings in cash.

But it's important to remember as well that cash has limitations.

Venezuela is the prime example: cash can lose value VERY quickly.

Modern money is nothing more than a mirage conjured out of thin air by central bankers-- unelected bureaucrats who are awarded free reign over the monetary system.

Central bankers decide in their sole discretion whether or not to print money, destroy money, raise rates, lower rates… whatever they feel like doing.

Each of their actions yields consequences… and those consequences have winners and losers.

Mark Carney, head of the Bank of England, recently announced that he is willing to tolerate higher inflation and a weaker pound in order to benefit factory workers and British exporters.

So basically if you're a factory worker or exporter, you win. If you're a retiree on a fixed income, you lose.

In a 'free society', citizens are supposed to be able to vote on the leaders who make such important decisions, i.e. robbing one person's standard of living to benefit another's.

But that's not how our modern financial system works.

Elected politicians don't really hold the power. It's unelected central banks who wield totalitarian control over the lives and livelihoods of other people.

It's as if they're presiding over some sort of financial death panel, determining who thrives and who gets crushed.

And I'm convinced that at some point in the future, our descendents will study this period of history with utter astonishment at how we could have allowed ourselves to be dominated by such a bizarre system.

Think about it-- we even award our society's most esteemed prize for intellectual achievement to economists who want to conjure even MORE money out of thin air, even when obvious examples like Venezuela persist.

So here's the bottom line-- definitely hold some cash, as in physical currency. Keep some in your safe.

Cash remains a great short-term hedge against problems in the banking system, and provides a number of other advantages including some minor asset protection benefit.

But think about keeping at least a portion of your savings outside of this bizarre system altogether.

Consider owning REAL assets, which could be anything from a private business to productive real estate to gold and silver.

And later this week we'll talk about some of the most valuable real assets to hold.
Until tomorrow,
Simon Black
Founder, SovereignMan.com
Dec 7, 2016
WOW! THINGS ARE REALLY HEATING UP ON ALL FRONTS!
For all you fence sitters, stand up and take notice! The webinar this evening will be open to all who wish to participate! It will be your chance to see how you can qualify for $120,000.00USD annual draw against earnings! Yes that's right! $10,000.00USD a month available starting January if you qualify to be a registered/authorized INDEPENDENT CONTRACTOR!
Gary D Holmes is inviting you to a scheduled Zoom meeting.
Topic: SESSION 10 21stCENTURY TRAINING WEBINAR 12-7-16
You will definitely be excited to hear that Registered/Authorized INDEPENDENT CONTRACTORS will be able to receive a draw against earnings starting in January! You want to attend to hear all the details first hand and start recruiting asap! If you have not paid your $550.00 you need to do it before the end of the year! Beg, borrow but do not steal to get your funds in NOW!
Time: Dec 7, 2016 10:00 PM ATLANTIC, 9:00 PM EASTERN, 8:00 PM CENTRAL, 7:00 PM MOUNTAIN, 6:00PM PACIFIC
Join from PC, Mac, Linux, iOS or Android:
https://zoom.us/j/646975924
The bank in Africa has completed a correspondent relationship with FIDES Bank in Mexico and loans to complete interim financing will commence in January!!!!!
Please put Mr Ben Young on your prayer list as he is going to have major heart surgery very soon (date to be confirmed). We all want our Founder and THI Visionary back in the New Year healthy and strong to lead us to our much desired goals for 2017! So Pray if you are a prayer warrior and think positive thought about his successful operation and recovery of your not, thank you!
INDEPENDENT CONTRACTOR REQUIREMENTS: Your capital outlay is $50.00USD paid to paypal for your www.21stCenturyProfits4U.com site and training and your $550.00USD 2 Day UAWS purchase with your accepted resume and business plan. If you are a non-member and do not hold any SPURT, ZCASH or CHIPS your fee is $1050.00USD for 4 Day UAWS purchase. This is only available until Dec 31sth 2016! January 1st it goes to $30,000.00USD or maybe more! So do yourself a favor and take the time to review this evening's webinar and make an educated decision to start your new career as an INDEPENDENT CONTRACTOR with Bright Star Call Center! Contact Gary for complete details on how to get started!
I talked with our European Associate yesterday and he was very excited to be going to England soon to complete some documents to execute transactions! There is so much more good news but I'm sorry I just can't share it yet but it is a work in progress moving steadily to our intended goal of SPURT EXCHANGE FACILITIATION!
Now for those of you who have not reviewed DIVVEE.SOCIAL what's wrong with you? Are you so rich you don't need any more money? OPPORTUNITY IS KNOCKING! Are you out the back yard looking for four leaf clovers? This program is awesome and will provide some serious steady cash flow just for reviewing APPS! This is the marketing WAVE OF THE FUTURE and launches officially January 10th. Spend the $25.00USD lifetime enrollement fee (ONLY UNTIL DEC 31st, $50.00 USD annually JAN 10th thereafter) and give the opportunity to your kids and grand kids to run with it and split the profits with them! My wife's two young teenage brothers are going crazy with this! Your kids will too! DON'T MISS THIS, IT WILL BE AS BIG OR IF NOT BIGGER THAN AMAZON!
CHECK OUT THESE SHORT VIDEOS, about 45 minutes in total and then say no! But don't say no until you've seen this! Come join with me!
Look, no one is busier than I am, ok maybe Eddie is but you can fit 20-40 minutes into your day to review the APPS and make money for ranking and sharing your opinion! If I can do it, you can do it and it will be the best $25.00USD you can spend to start a profitable business that can earn you thousands part time!
Why DIVVEE.SOCIAL?
https://www.youtube.com/watch?v=Y5u8HOticRw 8 mins approx
Here's a great overview to study and share! It's not 100% accurate ($50.00USD not $49.00USD) but it has good information about the market and the concept!
https://www.youtube.com/watch?v=FMcPmNF3o48 15 mins approx
Here's the same presentation in Spanish!
https://www.youtube.com/watch?v=Ydbq_AQX2eE#t=3.239937
COMPLETE PRESENTATION: 30+ mins
https://www.youtube.com/watch?v=CCuHHd1DNh8
WE ARE SO CLOSE! 4 mins
https://www.youtube.com/watch?v=JV-w9EC6tuk
Dec 3, 2016
Check out the DIVVEE.SOCIAL LINK for all the latest info and webinars on how to succeed with DIVVEE.SOCIAL! DON'T MISS THIS AMAZING OPPORTUNITY! A one time $25.00USD fee for life! Only available until Dec 31st 2016! CHECK IT OUT NOW!
Dec 2, 2016
Hello Everyone!
Irene from SPURT ADMIN needs your help and co-operation NOW! Please go to this link and watch all the videos but especially the fourth one on how to add your address and phone number. Most people, myself included, have not added this important information to their back office, it's done now! This is needed to receive your SPURT DEBIT CARD! Now please do not contact her or me about when the cards will be available because that info is not available at this time! Irene is getting everything prepared in advance so get your address and phone number updated NOW!
http://myspurt.org/information/tutorial
If you haven't received this email, here is important information on a fabulous new Business Opportunity!
It may not be for you but you will know someone who has a SMART PHONE and is always on it! They/you can now be paid to review APPS and give your opinion! It's a no brainer and everyone can do it! Your children, your grandchildren can now be put to work and they can earn points and you can earn money! The points can be accrued to get an APPLE I7 SMART PHONE among other great products! Please see this and pass it on if it is not for you because this will help so many families get the extra income they need to survive! I'm giving my wife's family memberships for Christmas presents, so they can all earn extra money to support themselves! Who do you know that is in a similar situation?
WE PAY YOU FOR YOUR OPINION AND DIVVEE UP THE MONEY!
That's right DIVVEE.SOCIAL is launching its awesome new RANK and SHARE APP and you can be a part of it before it hits the official launch on January 10th 2017 FOR ONLY $25.00USD (before Dec 31st) or even for FREE!
I received this email below from Ron Vanoss this morning and normally I would just delete this type of email as I've already got plenty to do! BUT my wife's family is really financially challenged and when I saw that this is already BIG in the SPANISH MARKET I just had to look at it for them! My Mother-in-Law, Maria just took a job cleaning a furniture store 5 days a week, 8 hours a day for 9000.00 Pesos a month! That may sound like a lot but that is only $200.00 for the whole month, $50.00 a week! That's a whopping $1.25 an hour!!!!! She and the whole family use their SMART PHONES, TABLETS and COMPUTERS and they can get paid for reviewing APPS and sharing DIVVEE.SOCIAL! The beautiful part is the three youngest teens are computer literate and this will be a slam dunk for them to introduce and share with everyone they know! It will grow like wildfire! The "legal" age is 18 for commissionable earnings but younger ones can earn gift cards and earn all kinds of great products! I plan on having the two youngest do the work and they will use their Mom and Dad's info and they will receive a split of the funds earned! You've just got to take a look at this NOW! It's really awesome!
They've extended the LIFETIME MEMBERSHIP FEE OF $25.00USD to Dec 31, 2016 so take your time but hurry up!

RON'S EMAIL: There is no need for an introduction here; we have spoken to each other in the past, however a few years ago. I am an assistant to Carol and Gordon Rothwell at the Calgary Work Center such as that situation is at this time.
I thought you might have an interest in another organization which will benefit you and all former ICC/IBOM members greatly and won't take a lot of time daily. We are called Divvee, google it and see the responses...they were getting so many worldwide hits yesterday that their servers couldn't keep up (over 4,000 hits a minute).

Please take a few minutes to look at the following information, if you don't have any interest please let me know and I will take your name off my list, I appreciate honesty and forthrightness. This is not a typical MLM, we all get paid the same.

This is my normal response email to requests for information

"Divvee is a new internet Social Marketing Network, something totally new. Similar to MLM but without any monthly auto ships, payments, pills, potions and lotions or anything that constitutes a regular payment for a product.
We get paid for our opinion...37 have joined my group so far and more are coming. I welcome you aboard if you so choose, here is a video that explains it all.
https://www.youtube.com/watch?v=AnomYiXhgWc&feature=youtu.be
I added this video, it is also worth watching!
https://www.youtube.com/watch?v=g42gYf9zLvs

Everything for an introduction is explained in the first 16 minutes of that 30+ minute video, once you have watched that much then watch this short overview of the entire process given by our new CEO Darren Olayan....great video, it is also presented in Spanish, just review the site to locate your
language of choice. There are several videos to watch on YOUTUBE!

https://youtu.be/ZfrTbL1m110

Join before Dec 31st and it is $25 once for life, then later the annual cost becomes $50 after Jan 10th.
Once you watch these two videos you will have a very good idea of the power of this plan. On a conservative estimate, my 37 members will provide me with a growing monthly income starting at about $1,550 a week plus I plan on securing $300 in gift cards a week also.

Let me know if you decide to join us, if there are non-US citizens in the organization, they have to input their applications in a different way until their home country gets a sponsor and brings them into the organization, most likely after Jan 10th, we will be worldwide after that date. This is expanding rapidly throughout Mexico, Honduras and Puerto Rico...more Spanish speaking countries are coming on fast because of our CEO who is a fluent Spanish language speaker.
More info on SPANISH YOUTUBE VIDEOS
https://www.youtube.com/watch?v=Hmc2LLdRIPk SPANISH 49 MINUTE PRESENTATION
https://www.youtube.com/watch?v=b6p3l6kXgBo SPANISH COMPENSATION REVIEW
And I just got this update from him:
Gary,
Great talking to you once again and excited with what you can bring to the table for us. Here is a link on YouTube for all the Spanish speaking members, https://www.youtube.com/user/jeremydjenkins/videos There are a number of videos here that can be viewed in Spanish which will be great for your organization. Be sure to sign up 10 or more members right away so that you are qualified. In the Unilevel matrix you then will be paid $3 a person, so with 1000 members that would be $3000.00 extra a month!
Also, when a non US citizen joins, tell them to locate a real address (google or phone book etc.) type in a 9 digit number for a social security number. Once we get the new Microsoft software in place for our back offices, that information can be revised for the particular country (after Jan 10th) if needed.
So there you have it! Contact me if you have any interest in moving forward with this awesome DIVVEE.SOCIAL! It's great to do part time and even full time, it can also be used as a fund raiser for your favorite charity or project!
Here's my link, you can sign up right away and start building your TEAM!
gdh.divvee.social just copy and paste this into your browser, it actually works!
Gary
541-582-7137
Garydouglas2015 and financialhope are my skype addresses
Nov 27, 2016
Hello Everyone!
Happy Sunday! And Happy belated "Thanks Giving" to all our US friends!
"It's about TIME!" Ya, I hear you! Yes this update is long overdue!
I've been super busy but also in a funk too! Let me explain!
Eddie contacted me two weeks ago Friday to inform me that the price of being an Independent Contractor was going up to $1050.00USD and that I needed to supply him a list of IC candidates that were moving ahead with the $550.00USD price, They had until week ago this past Friday to complete their order and transfer the funds to receive the $550.00 USD price. So the week was consumed with contacting IC candidates and getting them on board with what needed to be done along with other normal admin work. In the meantime Eddie ended up in the hospital that weekend with a severe kidney infection. I got word from Ben Nov 13 that he would be in there for a while! (He's out of the hospital and recovering nicely! Thank you Jesus!) So in the meantime I contacted our IC candidates to inform them of the changes and needless to say they were not happy but almost all of them moved forward!
I contacted Mr B via Skype and let him know what the consensus of the IC candidates was and that this change was unwarranted at this time. He contacted me back to tell there was no price change to $1050.00! WHAT? Later that same day I received this message from him on Tuesday Nov 15:
BETA TEST NOW OVER... MARKET ENTRY ACCOMPLISHED!
The development and beta test phase of the TEXAS HOLDINGS, INC 2016 BUSINESS MODEL brought in SUPPLIERS, BUYERS, BANKS, and INDEPENDENT CONTRACTORS... With $Billions UNITED STATES DOLLARS now on deposit ready to be used.
A beta test price for INDEPENDENT CONTRACTORS of $500 in UAWS purchase is now replaced with an initial market price of $30,000 in UAWS purchase.
Let's take a look at the benefits this provides,
For CENTERS... Every time someone recruits an INDEPENDENT CONTRACTOR that enters through a CENTER the CENTER earns $6000...
For existing INDEPENDENT CONTRACTORS... Every time a new CONTRACTOR is recruited the recruiter earns $6000...
By charging the $30,000 the opportunity value is put into better focus and serious marketing/sales entities/people would be the market...
A candidate to be an INDEPENDENT CONTRACTOR may qualify for bank financing... Making it accessible to anyone that is serious!
Why should someone be willing to pay $30,000 to be an INDEPENDENT CONTRACTOR?... Perhaps having $Billions of UNITED STATES DOLLARS already on deposit in the banking system to do business with might be a good reason!
The payment of $30,000 can also provide means for UNIFORM ADVERTISING to be spread out to help more people... Particularly people that do not have the ability to function as business people but are only capable of working as employees.
This above final reason is the most important and it will likely move the price upwards further as CONTRACTORS enjoy greater success!
You are invited to join us in the further deployment of the TEXAS HOLDINGS, INC. 2016 BUSINESS MODEL.. Thanks for your continued support
Needless to say, I was confused and had a few other emotions as well!
I contacted Mr R and noted my displeasure regarding this announcement and he, as always was supportive and provided counsel as usual. I then went about reorganizing my thoughts and game plan to prepare for this $30K IC UAWS fee. I contacted Mr B Monday Nov 21st with: "I have three IC candidates that would like to proceed with the financing of the $30K what are the procedures for them to qualify? I/they would like to move forward asap thanks!"
I did not like the answer I got and pressed for some changes! Needless to say it got a little heated but I believe we have come up with some viable solutions to this huge increase!
My main concern was not the $30K price, quick frankly it is worth more than $30K especially when the earnings on one completed $250K house THI/MPOP purchase/repurchase can net the IC over $1MM USD! Even if it took a year to put all the business together to get the transaction completed there is nothing on the planet that pays this well! Check out this FRANCHISE list: https://www.entrepreneur.com/franchises/lowcost tell me which ones will allow you to earn $1MM plus for each completed deal you transact!
No, what I objected to were these issues, we have yet to complete a transaction from start to finish, we do not have our websites completed for our $550.00, we do not have the financing available to put a loan together for the $30K as was suggested could be arranged! Those were my issues and here are the solutions to those issues!
1) Eddie and I have agreed to work on 3-4 MPOP purchase/repurchase transactions, document them via video webinar from start to finish for IC training purposes and only available to AICs and ICRs in the back office of www.21stCenturyProfits4U.com.
2) For any existing Member of the UCofC/MyFuelandGroceryClub/FinancialHope-ICC you may join www.21stCenturyProfits4U.com as an INDEPENDENT CONTRACTOR IN TRAINING (ICR) for only the $50.00USD annual membership and refer IC candidates and business prospects to registered and authorized INDEPENDENT CONTRACTORS and negotiate referral fees as compensation for assisting AICs in doing their recruitment and negotiated buy/sells. Should you decide you wish to move forward and become an AIC yourself you will have until Dec 30th 2016 to pay the original $550.00 UAWS fee! Needless to say this is an awesome opportunity to get involved NOW and take advantage of the $550.00USD UAWS fee!
3) For any IC candidate that is not already a Member of the UCofC/MyFuelandGroceryClub/FinancialHope-ICC and wishes to join us they may follow step 2 but pay $1050.00 USD instead of the $550.00USD.
4) The $30,000.00 UAWS fees will not be implemented until January 2nd 2017 or when the Bank loan capability for UAWS fees and personal website is operational whichever comes first. There will be a down payment required and a complete business plan outlining the repayment of the $30K loan before the loan will be granted. This will be individually negotiated with each IC Candidate with the Leadership of Bright Star Call Center.
So now we can move forward with a solid plan for our future in promoting the TEXAS HOLDINGS, INC 2016 BUSINESS MODEL!
"Recruiting INDEPENDENT CONTRACTORS "en masse" is extremely important in order to be able find large numbers of transactions for which available funds may be used as the basis to produce profits to spend instead of spending principal... Also... The reason such transactions are extremely important... To be used as the primary source for revenues... Instead of focusing on limited possibilities that may offer significant income but are always controlled by other agendas... Is that this strategy creates jobs... Distributed wealth instead of concentrating it... And provided safety for continuity and growth... ...So... Always willing to accept any legitimate use of funds... The TEXAS HOLDINGS, INC 2016 BUSINESS MODEL focuses on this strategy of "many hands make a heavy load light"!"
Here is some very encouraging news from Mr B as of yesterday, Nov 26th:
PLEASE DISTRIBUTE TO YOUR REGISTERED INDEPENDENT CONTRACTORS:
"We are in the process of capitalizing a bank in Africa... they also own a funds transfer company in the USA... and intend to open a Federal Credit Union in the USA... They will be in a position to create loans against funds deposited with FIDES... You will need a business plan... One such plan might be to buy securities through brokerage firms and use these to undertake leveraged transactions... such as PPP if the PPP are verifiably real... Your friends in New York, London, etc., may help with this... but we also have through FIDES a Swiss Bank Attorney that can make arrangements."
So as you can see there has been a lot of negotiations to keep me busy and then I had this very sad message from Robbie just before we were to do a webinar with Eddie, Robbie, Roy and myself, it completely shocked me and put into a real depressing funk!
"Guys I have terrible news. Roy passed away this morning at 7:30 am at home. I received a call from Roy's daughter and wife this morning. I don't know how well you knew Roy's family but feel free to reach out and contact Joan."
I cried!
I cried for several reasons, I am deeply grieved at the loss of Roy, not only an AIC but a true friend, I cried for Joan at the loss of her long time husband and soulmate, I cried for the loss to his family and to his community. Roy was an exceptional man, he was kind, loving, even tempered, consistent, loyal, honest, honorable and truly committed to Joan, his family, his Christian community and our mutual goals! I will truly miss you Roy!
I have not experienced these feelings of deep sadness before! I couldn't understand why I was so grieved, sad and depressed!
Then it hit me, it could have been me! I could have had that heart attack! I just realized at how unprepared I am for such an occurrence! I'm getting older and it was a wakeup call! I could easily have had died last November when I had my heart challenges! Roy is the first person in my circle that has passed, what a shocker! I'm not prepared, are you?
So I now have worked through these last four days with thoughts and prayers and I am feeling less depressed about the issues at hand and it is time to deal with all these changes, both good and bad and I hope you will continue to work with me to make this world a better place for our family and friends! We must move forward as Joan said to me, "Roy would want it that way!"
For those of you, who are prayer people, please pray for Joan and her family during this time of grieving, thank you!
Gary
November 25, 2016
Sovereign Valley Farm, Chile
In late January of the year 98 AD, after decades of turmoil, instability, inflation, and war, Romans welcomed a prominent solider named Trajan as their new Emperor.

Prior to Trajan, Romans had suffered immeasurably, from the madness of Nero to the ruthless autocracy of Domitian, to the chaos of 68-69 AD when, in the span of twelve months, Rome saw four separate emperors.

Trajan was welcome relief and was generally considered by his contemporaries to be among the finest emperors in Roman history.

Trajan's successors included Hadrian and Marcus Aurelius, both of whom were also were also reputed as highly effective rulers.

But that was pretty much the end of Rome's good luck.

The Roman Empire's enlightened rulers may have been able to make some positive changes and delay the inevitable, but they could not prevent it.

Rome still had far too many systemic problems.

The cost of administering such a vast empire was simply too great. There were so many different layers of governments—imperial, provincial, local—and the upkeep was debilitating.

Rome had also installed costly infrastructure and created expensive social welfare programs like the alimenta, which provided free grain to the poor.

Not to mention, endless wars had taken their toll on public finances.

Romans were no longer fighting conventional enemies like Carthage, and its famed General Hannibal bringing elephants across the Alps.

Instead, Rome's greatest threat had become the Germanic barbarian tribes, peoples viewed as violent and uncivilized who would stop at nothing to destroy Roman way of life.

Corruption and destructive bureaucracy were increasingly rampant.

And the worse imperial finances became, the more the government tried to "fix" everything by passing debilitating regulation and debasing the currency.

In his seminal work The History of the Decline and Fall of the Roman Empire, Edward Gibbon wrote:

"The story of its ruin is simple and obvious; and instead of inquiring why the Roman empire was destroyed, we should rather be surprised that it had subsisted so long."

Gibbon was right. These trends are incredibly powerful. And once they reach a tipping point, they're almost impossible to stop.

Similarly, though, no one has the ability to look into a crystal ball and predict with any certainty when it will all finally break down.

In today's version of the Roman Empire, the United States, we can see similar circumstances.

The debt level is now rapidly closing in on $20 trillion, well in excess of 100% of GDP.

And even under the government's most optimistic estimates, this debt is growing at a far more rapid rate than the economy could ever hope to expand.

We can see a central bank that is nearly insolvent.

We can see a commercial banking system that, even in the opinion of its own regulators (most recently the Federal Reserve Bank of Minneapolis), is still at significant risk to succumb to a major crisis.

We can see Civil Asset Forfeiture levels that have increased to astonishing rates.

These trends are pretty obvious, and they have been building for years.

And history shows that, whenever governments reach these tipping points, they tend to rely on a very limited playbook.

In ancient times, the Romans imposed wage and price controls under penalty of death.

In our modern era, governments default on the obligations they've made to taxpayers (for example, social security and pension payments).

They impose capital controls, preventing you from engaging in even the most basic financial transactions like withdrawing money from your own bank account.

They grab assets and retirement savings. They freeze accounts.

This isn't theory or conjecture– it's reality. Each one of these examples has actually taken place in the developed world in the past few years.

It's not crazy or radical to acknowledge these simple facts.

Actually, denying them and pretending like these problems don't exist seems pretty crazy.

And understanding the truth doesn't mean that the world is coming to and end. Far from it.

But it does make sense for rational, thinking people to take some simple steps to distance themselves from the consequences of such obvious trends.

For example, if your banking system is deeply flawed, don't keep all of your money there. Easy. Why take the chance?

Instead, consider holding a bit of cash, or perhaps move some funds to a more conservative, well-capitalized bank that's backed by a government with zero debt.

If the fundamentals of your currency are pitiful and your central bank is nearly insolvent, don't keep 100% of your assets denominated in it.

Consider diversifying into other currencies or owning some real assets, like productive land, profitable businesses, precious metals, cash-producing real estate.

If your government is flat broke and losing money every year, don't keep all of your assets there, especially your retirement savings.

Consider structuring a better retirement plan where you have the latitude to move funds outside the conventional financial system and away from their easy reach.

These concepts ensure that, no matter what happens (or doesn't happen) next, you'll always be in a position of strength.

There may be good emperors and bad emperors, devils and saints.

And the consequences of the trends they've created may come to pass tomorrow, next month, next year, or perhaps (by some miracle), never at all.

But it's hard to imagine you'll be worse off for having a portion of your savings in a safe, well-capitalized bank as opposed to an illiquid one.

It's hard to imagine you're worse off because it's more difficult for frivolous plaintiffs to sue you.

Or that the completely legal steps you've taken have reduced your tax bill.

Or that your new retirement plan is safer and exposed to more lucrative investment options than ever before.

Rational, thinking people don't ignore such obvious risks. They understand that the biggest risk of all is doing nothing.

The solutions are simple, effective, and absolute no-brainers. All it takes to implement are the proper tools, the right education, and the basic will to take action. WE HAVE ALL THE SOLUTIONS NECESSARY FOR YOU!
Gary
Have a good weekend,
Simon Black
Founder, SovereignMan.com
OTHER NEWS FROM EUROPE:
We are moving in the right direction and have many solid plans in play! Sorry but I cannot divulge that info here! Contact me via Skype for details if you are part of the solution!
Please assist us through the Six Degrees of Separation if you can, check of this proposal link and contaxct me if you have any candidates!
November 19, 2016
Dear MySPURT Clients
We are excited about the developments in connection to SPURT and the exchange thereof. It is amazing what some clients are doing to get SPURT accepted worldwide. We are very grateful for their assistance. Now is the time to bring new clients!
Passwords
In MySPURT it is not possible to click on a "Forgot password" link. The reason is that you can open more than one account with the same email address. So it is VERY important that you keep your Password IN AND outside your computer. Many clients received an email with their password and we ask all of you to go to that email and also save the password outside of your computer. If you cannot login, it may be that you changed the password. It is important that, when you copy and paste, you do not add an empty space to the password. Clients choose a password themselves and should be careful not to forget it. So make a note.
Every day we receive several requests for forgotten passwords. MySPURT is never changing your password, so there must be a mistake on your side. After three unsuccessful atempts, your account will be blocked for 15 minutes for your security. After this time you can try again, after you checked what you did wrong. We can't continue to work for free for people who forget their information. From now on, a password will ONLY be changed, after a PayPal.com payment of three EURO to info@myspurt.org IN WHICH YOU NOTE your ACCOUNT NUMBER.
Tutorial
A new tutorial was added, where you can find how to add a product to the Marketplace and how this Marketplace is working. Please also look at the other tutorials, for lately people pay in Swiss Francs, which is NOT what we ask. Please only pay in EURO, as mentioned and showed in the tutorial.
Account Types
We took away the option for different Account Types again. There was not enough interest. The options we showed there are now placed under Business, where the other offers have been taken away.
"I offer a Job"
The great offer to earn SPURT for the work you are doing, but do not get paid for, is now under Sound Prosperity. If you take care of someone, this is a very good offer for you!
Address and Name.
There are still many clients who did not add their Addresses to the system. If you did not do that, or did not add your name (which can be set as private), we will not be able to send you a Debit Card when the time comes. You might think that you added your name during registration, but that name is replaced by a number. Please check again.
Promotion Deal
Under Open a SPURT account you will find a New Promotion tool, which is also very lucrative for you, as you can see in the "Friend's Deal".
Spanish translation of the MySPURT.org website
A Part of the website is now translated and we will continue to do that. Thank you Marlen!
MySPURT Team
The MySPURT team is working from EUROPE and ALL Team members are situated in EUROPE. If a client of MySPURT gives the impression that they are in the MySPURT board you can contact MySPURT to ask for verification.
Thanks to all our supporters!!
Kind Regards
MySPURT Team
Nov 4, 2016
Happy Friday Everyone!
We have more great news to share with our fellow members!
Here are two short Webinars to assist you in submitting your fuel, grocery and electric bill payment receipts to receive even more SPURT and also how to use your SPURT IN A VERY BIG WAY WITHOUT SPENDING IT!
WATCH:
​​
​
READ:
SPURT SELF LIQUIDATING CREDIT OPTION
USE SPURT FOR COLLATERAL FOR SELF-LIQUIDATING COMMERCIAL CREDIT!
USPES OFFERS SELF LIQUIDATING COMMERCIAL CREDIT TO HOLDERS OF SPURT.
SEE SLIDE 14 OF
http://www.change2100.com/THIBMART/TEXAS%20HOLDINGS%20INC%20BUSINESS%20MODEL%202016%20REV%20IV.pdf
WHICH MEANS IT MAY BE USED WITHOUT DEPLETION TO PURCHASE ITEMS USING
http://www.change2100.com/THIBMART/PURCHASE ORDER.pdf
AND
http://www.change2100.com/THIBMART/REPURCHASE AGREEMENT.pdf
UAWS COSTS FOR SPURT HOLDERS
"UAWS" REQUIRED FOR "PAY-IT-FORWARD" REQUIREMENTS ARE ALLOWED TO BE PAID BY SPURT HOLDERS ORDERING THEM AS AN ITEM IN THE PURCHASE ORDER.
THIS FEATURE ALLOWED FOR SPURT IS NOT ALLOWED FOR OTHER VIRTUAL CURRENCIES.THIS CAN OFFER SIGNIFICANT UPFRONT SAVINGS TO HOLDERS OF SPURT VERSUS HOLDERS OF OTHER VIRTUAL CURRENCIES.
REQUIREMENT TO PARTICIPATE
FOR EACH ORDER PLACED A SPURT HOLDER MUST REFER A NEW "INDEPENDENT CONTRACTOR" TO COMMENCE THE PROTOCOLS, THAT IS WHAT WE TEACH YOU HOW TO DO ON THIS SITE.
QUALIFICATION FOR NEW CARS
SPURT HOLDERS MAY AQUIRE NEW CARS FOR PERSONAL USE, THEY MAY BE RESOLD BY THE SPURT HOLDER OR THEY MAY BE PROVIDED AS A BONUS OR GIFT TO OTHERS SELECTED BY THE SPURT HOLDER
SEE:
http://www.change2100.com/THIBMART/NEED A NEW CAR.pdf
SEE:
http://www.change2100.com/THIBMART/PAYOFFYOURCORPORATE OR BUSINESSDEBT.pdf
WHY NOT?
WHY NOT OBTAIN/EARN SPURT?
JOIN http://www.myfuelclub.net/affiliates/myfuelclub/signup FOR FREE AND ALSO RECEIVE THE OPPORTUNITIES AVAILABLE FROM http://ucofc.info/ AND EARN SPURT!
YOU WILL NEED TO REVIEW http://www.new-chances.info/home AND http://myspurt.org/home TO FULLY UNDERSTAND SPURT AND THE OPPORTUNITIES IT HOLDS FOR YOU. THE SPURT ACCOUNT SET UP FEE IS ONLY 50 EUROS SEE THE http://myspurt.org/home WEBSITE FOR MORE ACCOUNT SIGN UP OPTIONS.
SO WHY NOT USE SPURT AS COLLATERAL INSTEAD OF SPENDING IT?
WHY NOT GET NEW CARS AT "NO COST" AND AVOID "PAY-IT-FORWARD" EXPENSES ASSOCIATED WITH USING SPURT VIRTUAL CURRENCY AS COLLATERAL?
CONTACT: Gary Holmes via this site or your Bright Star Call Center Independent Contractor who referred you to this site for more information.
Nov 2, 2016
George Bernard Shaw
"This is the true joy in life, the being used for a purpose recognized by yourself as a mighty one; the being thoroughly worn out before you are thrown on the scrap heap; the being a force of Nature instead of a feverish selfish little clod of ailments and grievances complaining that the world will not devote itself to making you happy."
PLEASE CONSIDER ATTENDING THIS 7 PART SERIES REGARDING AUTO IMMUNE DISEASE!
WATCH HERE: https://betrayalseries.com/prelaunch-access
Today is my 67th Birthday and I'm up at 4 am because I can't sleep! It's not from excitement about being 67 but rather a heavy heart and tightness in my chest. You see, my sister is 74 years of age and is very sick from all sorts of ailments, rheumatoid arthritis, cancer and a host of other nasty diseases that have been plaguing her for most of her adult life! I have not had a good relationship with her and my nieces and nephew ever since I started this educational journey since 1999 and it has always hurt to have them think that I am some kind of crazy conspiracy theorist that always has to go against the system. It was only last year that I actually talked to my sister since 1999! Whenever I talk to her now, as in the past, I always ask her how she's doing and then hold the phone away from my ear as she describes the pain and suffering she is experiencing as it depresses me to no end! After a few minutes she finishes her ailment update and then I try to console her and give her alternative holistic options but her second husband won't allow the internet in their home so she is cut off from the awesome capability of what the internet can provide! I have been procrastinating from calling her for about two weeks and it has been weighing heavy on my heart because there seems to be nothing I can say or do that can help her because she will only listen to the medical system's lies! So I woke up, ignored the heaviness of being a less than compassionate brother and started to plan my day as usual. I checked my email and there was this invitation from one of the health websites I subscribe to about auto immune disease and what caught my eye was this:
Why is Autoimmune disease so hard to cure – or even diagnose?
The truth is this: We cannot change what we do not understand.
And this
The world's leading minds say that autoimmunity is the core cause for almost ALL disease, for cardiovascular disease, for CANCER. Even for depression and suicide.
Autoimmune disease robs our youth, steals our years and ruins lives... But it CAN be reversed and put into remission... this is the information desperately needed.
Now I know why my Father woke me up at 4 am, he wanted to make sure I saw this email invitation!
So I watched the video introduction and in that introduction the Doctor told a story of a woman suffering from autoimmune diseases that at age 11, through his reconstruction of her illness timeline, had made the shocking realization that at age 11, when all the symptoms started she had triggered the memory realization that she was raped! WOW! What a breakthrough for her AND now I know why I was to see this introduction! My sister was "sexually abused" ( I don't know all the details) at an early age by our next door neighbor who was baby-sitting her on a regular basis! You see back in the 50's, as kids our parents told us that all our neighbors were aunts and uncles to us. So we called them Uncle Reg and Aunt Mary etc. and trusted them as family! This hit home immediately! Now I can see what it has done to my sister and maybe to me!?
So I have signed up for the 7 part series to find out more about what can be done to stop the betrayal and start the healing! I urge you to do the same! It's FREE! So what's stopping you from spending Nov 14th at 9 PM Eastern from watching this important life changing information, "Dancing with the Stars"? Come on commit to learning the truth and getting the truth out there to everyone you know! Watch the intro as I have done and then email me as to why you don't think it is worth your time to watch this 7 part series! Read the George Barnard Shaw quote again before you write me!
I know this is a departure from our normal 2016 NEWS updates but it has touched me deeply and I wanted you to have this opportunity to help you and yours too!
OK, let's get on to some important and very exciting updates!
Now if you have SPURT in abundance there is really good news for you!
Watch this webinar: A NEW WAY TO USE YOUR SPURT NOW!.mp4
and review this link: http://www.change2100.com/THIBMART/SPURT.pdf
Get your questions together and contact me for answers!
You will need to do this in order to participate in the new SPURT PROTOCOL, either for yourself or find someone that you bring to the table who has sales experience to become the Independent Contractor!
THE NEXT STEPS TO TAKE TO BECOME AN INDEPENDENT CONTRACTOR MEMBER
WITH www.21stCenturyProfits4U.com
1) Please send if you haven't already, your resume and an overview of your game plan to utilize the protocols on http://www.change2100.com/THIBMART/ Please see resumes on http://www.change2100.com/THIBMART/IC/contents/en-us/d2.html
2) Also please click on this link http://www.21stcenturyprofits4u.com/affiliates/21stcentury/signup
I will be your sponsor and coach and you will get a link with you user name in it to track and build your INDEPENDENT CONTRACTOR TEAM.
3) You may place your order for "ADMINT ONE" your $50.00 USD annual membership fee via PayPal to gdh@legacyassurance.net, please use friends and family transfer protocol or add the transfer fee amount to the $50.00, thanks!
4) We will set up another webinar to go through the back office and work on your game plan and then we will start doing calls and presentations together. Or we will work on the specific protocols that you have outlined in your Game Plan Overview! I'm really looking forward to working with you!
5) When you are ready to move forward with your 2 UAWS payment ($500.00USD + $50.00USD for internal wire transfers =$550.00 USD Total) for your Independent Contractor membership, please contact me and I will send you the webinar to show you how to fill out the order and send the funds via wire transfer. Please do this asap before they change the fee structure again!?
This will be the last time these webinars will be available to the general membership! So review these and make your choice to join with us as an Independent Contractor in training following the steps outlined above!
21stCENTURYPROFITS4U INTRODUCTORY WEBINAR OCT 5...
​​
SESSION 1 21stCENTURY TRAINING OCT 19.mp4
​​
21stCenturyProfits4U training webinar SESSION #...
​​
We also have amazing developments in the http://www.change2100.com/THIBMART/ website!
Check out these great new protocols!
http://www.change2100.com/THIBMART/SALES%20PROFESSIONALS.pdf
http://www.change2100.com/THIBMART/REAL%20ESTATE%20BROKERS%20&%20AGENTS.pdf
http://www.change2100.com/THIBMART/NEED%20A%20NEW%20CAR.pdf
http://www.change2100.com/THIBMART/PAY%20OFF%20YOUR%20CORPORATE%20OR%20BUSINESS%20DEBT.pdf
http://www.change2100.com/THIBMART/INSURANCE%20AGENTS.pdf
http://www.change2100.com/THIBMART/LICENSED%20SECURITIES%20BROKERS%20&%20AGENTS.pdf
Everything you need to use your digital currencies and other financial instruments issued by the ICC or the Crown can now be redeemed without cost, just the work required using:
http://www.change2100.com/THIBMART/USPES%20LOSS%20RECOVERY.pdf
So if you truly want the wealth you believe you are owed, it is now available to you with all of these protocols and the work required fulfilling them! If you are a netloafer then wait for JJ to have the banks in place and that gives you a second option as well! So if you want things to change for you, it is up to you! If you want things to get better for you, it is up to you! No more excuses!
Great success in all that you do to make your life and the world better!
Gary
Thursday Oct 27, 2016
What a fabulous webinar you missed! This webinar was so exciting I have decided to post it for all to see!
If this don't light your fire, your wood's wet!
Here's my resume that will be posted on http://www.change2100.com/THIBMART/IC/contents/en-us/d2.html
RESUME: Gary Douglas Holmes
BRIGHT STAR HOLDINGS INTERNATIONAL INC.
BRIGHT STAR CALL CENTER
21st CENTURY PROFITS 4 U
THE ULTIMATE COLLEGE OF COMMERCE
MY FUEL&GROCERY CLUB
182 John St N. Hamilton Ontario Canada L8L 4P2, Phone: 1-541-582-7137, Email: gdh@legacyassurance.net
OTHER ADDRESSES AVAILABLE ON REQUEST
Professional Summary: I am Co-Founder of BRIGHT STAR HOLDINGS INTERNATIONAL INC. and BRIGHT STAR CALL CENTER and have been working with Eddie Salas my partner, Mr Ben Young and Mr Ritchie Spurger developing an ICC Membership Group since 2006. I have been responsible for marketing, member recruitment, order administration and training of our 7000+ member database.
I created both MY FUEL&GROCERY CLUB and THE ULTIMATE COLLEGE OF COMMERCE online business opportunities in 2013 so our members could earn SPURT DIGITAL CURRENCY and build SPURT local communities. This is an ongoing work in progress and is available to any and all members at no cost to get started.
Upon the dissolution of the Public/Private Partnership with the Crown of St Stephen and the Internet Catalogue Club in August 2016 my focus was channeled into the creation of the online business website www.21stCENTURYPROFITS4U.comwhich offers our Bright Star Call Center Members the opportunity to introduce the protocols of http://www.change2100.com/THIBMART/which are business opportunities. It also provides back office tracking of their Call Center Independent Contractors and Business Candidates and provides additional compensation for anyone choosing to work with Bright Star Call Center to a second level paying 10% in SPURT DIGITAL CURRENCY on business volume generated to your SPURT ACCOUNT. At this present time there is no other CALL CENTER that offers this CONTRACTOR/BUSINESS CANDIDATE tracking and additional second level SPURT commission and that along with 10 years' experience in working with ICC Protocols and having a close relationship and long term relationship with the founders and leaders of http://www.change2100.com/THIBMART/make Bright Star Call Center the Call Center to work with!
Skills:
1. Management
2. Marketing
3. Strategic Planning
4. Finance
5. Entrepreneurship
6. Offshore Banking
7. Negotiation
8. Commerce
9. Venture Capital
10. Wealth Accumulation
11. Team Building
12. Mergers & Acquisitions
13. Start-ups
14. Customer Service
15. Public Speaking
16. New Business Development
17. Investments
18. Social Networking
19. Small Business
20. Business Strategy
21. Business
22. Leadership
23. Teacher of COMMERCE through CAPITALISM
24. Private Investments
25. Private Banking
26. Passive wealth building
27. E-commerce
28. Recruiting
29. Training
30. Team Leadership
31. Time Management
32. Continuous Improvement
33. Online Marketing
34. Sales
35. Strategy
36. Leadership Development
37. Coaching
38. Business-to-Business B2B
39. Sales Management
Work History: Dates will be approximates as I have never done a resume before, I've never needed one! At my age of 67, it's all getting a little fuzzy regarding the exact times!
2006 to PRESENT: Actively involved in the Internet Catalogue Club and all of the above listed existing businesses.
2002 to 2006: Castle Fair Ministries Co-Founder and Marketing Director. This debt relief Ministry provided solutions for paying off mortgages and loans using unique proprietary protocols. It failed to fulfill its mandate because of US Government/IRS intervention with Switzerland disallowing US entities to work within the Swiss financial arena, so we closed down voluntarily and every participating member was made whole 20X their donation value in BVK Digital Currency whereby most of the members have moved to create SPURT ACCOUNTS and now hold 20X value in SPURT under the 7070 ICC Protocol.
1999 to 2002: This time of my life led me to live in North Carolina, Arizona, Illinois, Kentucky, South Carolina, Florida and Oregon. I was searching, learning and working within the Sovereignty movement. This was truly an educational time of my life and I supplemented my income by doing contract work and odd jobs while studying with some of the best in the Sovereignty movement. I believe I know what to do and not to do when it comes to Sovereignty issues; quite frankly it is best not to go there! There is no need to, if you are tax payer, pay your fair share and use the protocols we offer to build wealth and diversify your holdings, it's all available to you NOW!
1998 to 1999: Co-Founder of a Network Marketing Travel Company with Vern Pich, failed miserably.
1997 to 1998: Independent MLM Marketing Rep with Club Atlanta Travel: This was the most fun I've ever had in business being a professional vacationer! The SEC challenged the owners of CAT to prove they were not selling an unsecured security and they weren't, it was a travel certificate and CAT won the seven month court battle but lost the business because of huge legal fees and members had to make a living and went to other opportunities so Vern Pich and I tried to duplicate the CAT format but we were undercapitalized and couldn't find travel agents to buy into the concept.
1995 to 1997: Independent MLM Marketing Rep with JewelWay, The SEC destroyed this opportunity as well! How can gold and silver jewelry be considered and unsecured security? Evil alphabet gangsters!
1988 to 1996: Aflac Insurance Company of Canada, I started as a sales rep for Pan American Family a company owned by American Family of Columbus Georgia it all morphed into AFLAC USA and AFLAC Canada. I was promoted to District Manager, Regional Manager and finally to VP of Sales and Marketing during my eight years with AFLAC. I enjoyed this experience immensely but the Socialized medicine system of Canada made it a hard sell for supplemental insurance and the AFLAC USA leadership pulled out of all developing markets with the exception of Japan so I was no longer needed.
1986 to 1988: I was involved in both Herbalife and NSA Water Filters during this time until I sold a water filter to Berry Murray the President of Aflac and he persuaded me to come work with him, which I did. We are still friends to this day and are working on bank purchases together!
1978 to 1996: I owned and operated Gary Holmes Music Center in Brantford Ontario Canada successfully for eight years, in 1995 I opened Keyboard Dynamic Music Center, expanded beyond my means and the organ industry completely disappeared from the face of the earth and I lost everything!
1975 to 1978: I managed Trev Bennett Music House in Kitchener Ontario. This was so successful for Trev that I doubled his business in that time period and I made enough money to open my own competing Yamaha Music store in Brantford.
1972 to 1975: I worked as Territory Manager for Yamaha Canada Ltd covering south western Ontario, I was so successful in market penetration of Yamaha products I was called Mr YAMAHA! Trev blackmailed me into working for him by asking me to name my own price to come and work for him. I proposed twice what I was earning with Yamaha which was super high for the time and he accepted it, so I changed careers from wholesale to retail again!
1969 to 1972: I worked for Stewart Sherwood Piano House/Hamilton Yamaha Music Center as a sales person and guitar teacher. I sold more Yamaha guitars than anyone else in Canada and Yamaha Canada Ltd made me an offer I couldn't refuse!
1968 to 1969: I worked for Overhead Crane and then Dofasco Steel Company coming out of High School and quickly decided grunt work was not for me!
Education: Delta High School Grade 12 Diploma 1968
I've taken numerous Sales Training courses, Management Courses and Personal Development Courses taken over 49 years of being in business.
Mentors: Dale Carnegie was my first, Jim Rohn is my personal favorite, I met him during my time with Herbalife and we remained acquaintances until he passed away, Tony Robbins, Zig Ziglar, Wayne Dyer, Les Brown, Robert Kiyosaki, Dani Johnson, Bob Proctor, and last but not least Tommy Hopkins who I personally worked with during my time with Aflac.
I have been commissioned by my Heavenly Father to build His Kingdom here on earth until He comes again! In the meantime I am blessed with the skills and protocols to help you make this world a better place, please contact me so that we can see if we have a meeting of the minds and can work together for the betterment of all!
Gary
Anyone who has not given time to what's going on with www.21stCenturyProfits4U.com please tune in NOW!
Wednesday Oct 26, 2016
Tonight's the night!
That's right, our 21stCenturyProfits4U.com Independent Contractor Training webinar is on tonight at 9 PM Eastern with Gary as Moderator and Eddie as Chief Independent Contractor answering questions!
It's not too late to participate! All you have to do is send me your resume and game plan and I will provide you with the link to join 21stCenturyProfits4U.com as an Independent Contractor in training and you will receive the info to join the webinar tonight!
THI has made great strides in making whole ICC Members who have ZCASH, CHIPS, BVK and other instruments and checks provided through previous protocols, see:
http://www.change2100.com/THIBMART/USPES%20LOSS%20RECOVERY.pdf
READ:
USPES
P.O. BOX 741
ALLEN, TEXAS, USA 75013
EMAIL: uspesresumes@change2100.com
If you (or an entity you are associated with) have lost value related to ZCASH, CHIPS, BVK, SAINT STEPHEN'S CROWN DEPOSITORY, INCREDIBLE CONCEPTS OF THE CROWN OF SAINT STEPHEN, and/or the INTERNET CATALOGUE CLUB, we can help.
USPES has negotiated $Billions of UNITED STATES DOLLARS in COMMERCIAL CREDIT to be available for purchases that may be made through TEXAS HOLDINGS, INC. BUSINESS MART CALL CENTERS with USPES as the SUPPLIER of products and services that may be ordered.
You (or an entity you are associated with) may issue PURCHASE ORDERS as per...
http://www.change2100.com/THIBMART/PURCHASEORDER.pdf
And, you (or an entity you are associated with) may benefit from REPURCHASE AGREEMENTS as per...
http://www.change2100.com/THIBMART/REPURCHASEAGREEMENT.pdf
For any items, which you (or an entity you are associated with) may select, valued in total up to the amount of the value lost...
With USPES designated as the SUPPLIER. (GDH COMMENT: This is one of the most honorable protocols the THI Leadership has ever created! They are prepared to assist YOU in becoming WHOLE; all you have to do is the required WORK with no further funds out of pocket!)
See http://change2100.com/THIBMART/SUPPLIERS/suppliers.html
Normally, a BUYER would be required to "PAY-IT-FORWARD" by acquiring, for the benefit of SUPPLIERS to be designated by TEXAS HOLDINGS, INC., UNIFORM ADVERTISING WEEK SERVICES ("UAWS") valued at $5,000 UNITED STATES DOLLARS per each $1 Million UNITED STATES DOLLARS or portion thereof in price of items ordered.
However, if you have lost value as indicated, the requirements for UAWS would be paid through the REPURCHASE AGREEMENT funding and not out-of-pocket by you.
But, USPES will require you to refer an entity that becomes an INDEPENDENT CONTRACTOR recruited by USPES for each PURCHASE ORDER that you may choose to submit for processing.
See http://www.change2100.com/THIBMART/SALESPROFESSIONALS.pdf
If you incurred losses as indicated, USPES would be most happy to work with you, for you to recover those losses through purchases you may make at no cost to you!
These protocols are absolutely awesome! So now is the time to consider becoming a 21stCenturyProfits4U.com Independent Contractor in training so you can make yourself whole and help others too lazy to do the work to do the same and be paid handsomely in USD or whatever your country's currency is to help them too! These protocols DO NOT USE any digital currencies, but will allow you to get value for the digital currencies listed above!
Next, review this POWER POINT PRESENTATION LINK:
http://www.change2100.com/THIBMART/INCOME%20FROM%20PROPERTY.pdf
Here you will see how you can turn any property into CASH MACHINE!
Next learn to build yourself a group of Realtors who will bring you properties for you to enter into the THIBMART/INCOME FROM PROPERTY Protocol.
See http://www.change2100.com/THIBMART/REALESTATEBROKERS&AGENTS.pdf
Next, review the WIIFM for every property holder, whether it is free and clear or mortgaged to the hilt everyone who can reason will want to do this!
See: http://www.change2100.com/THIBMART/BUYING%20PROPERTY%20BACK.pdf
Here is the most important page excerpt outlining the WIIFM for every property holder:
PURCHASE ORDER
• THE PURCHASE ORDER WOULD OFFER TO EXECUTE A STANDARD REAL ESTATE CONTRACT AS MAY BE APPROVED BY TEXAS HOLDINGS, INC THAT WOULD PROVIDE FOR PAYMENT OF THE FULL VALUE OF THE PROPERTY AS SOLD TO TEXAS HOLDINGS, INC
+ PLUS A 20% INCREASE IN VALUE THERE OF...
•..PLUS ALL REAL ESTATE FEES ASSOCIATED WITH THE SALE OF THE PROPERTY TO TEXAS HOLDINGS, INC AND THE REPURCHASE THEREOF...This is X 2 because of the two contracts required!
•.PLUS THE "PAY-IT-FORWARD" REQUIREMENTS...This is the $5K USD per $1MM in property value X the total value of the property!
•.PLUS COSTS OF OPENING AND MAINTAINING AN ACCOUNT WITH FIDES FOR TEN YEARS...This is $1000.00USD plus $250.00 per month for 10 years, grand total=$30K USD
•.PLUS ESTIMATED COST OF UTILITIES FOR TEN YEARS...
•.PLUS ESTIMATED COST OF GROUNDS AND PROPERTY MAINTENANCE FOR TEN YEARS...
• PLUS ESTIMATED COSTS OF PROPERTY REPAIRS/IMPROVEMENTS...
•.PLUS ESTIMATED COSTS OF NEW FURNISHINGS FOR THE PROPERTY...
•.PLUS ESTIMATED COSTS OF A NUMBER OF NEW VEHICLES TO BE PROPOSED
•.PLUS OTHER MISCELANEOUS ITEMS THAT MAY BE APPROVED BY TEXAS HOLDINGS, INC This would include all insurance products for the home and vehicles!
• PLUS A CONTINGENCY FUND TO BE USED SUBJECT TO APPROVAL BY TEXAS HOLDINGS, INC
•.PLUS ADVERTISING CREDITS EQUAL IN FACE VALUE TO FOUR TIMES ALL OTHER ITEMS THAT WOULD BE PURCHASED USING COMMERCIAL CREDIT AND WITH A 75% DISCOUNT
•SEE http://www.change2100.com/THIBMART/PURCHASE ORDER.pdf.
Who wouldn't want to turn their property into a CASH MACHINE? Especially when you can do this protocol again and again!
You need to jump on board NOW as a 21stCenturyProfits4U.com Independent Contractor in training while the opportunity is still available at a very small entry fee!
The first group that is successful in bringing business to 21stCenturyProfits4U.com will be rewarded beyond their wildest dreams! The second group that joins will also have the same opportunity to earn BIG but the entry fee will be a lot higher than it is now, so a word to the wise, get started TODAY! Don't delay; send your resume to gdh@legacyassurance.net along with your game plan NOW!
So we have several ways to go,
1) You have the opportunity to use the
"TEXAS HOLDINGS, INC. 2016 BUSINESS MODEL" offering all the protocols on http://www.change2100.com/THIBMART/index.html
or
2) Wait until JJ has the banks purchased and operational with the buy/sell transactions creating profits for the SPURT EXCHANGE FACILTIES to become operational
3) or you can wait and see and get left behind, all valid options!
Choose better for you, choose options 1 and 2, remember you can do both! Get started with OPTION 1 TODAY!
Here are some more great tools to wake your circle of influence up to the major changes that are going to occur! This is not a "maybe", this is a "when" situation! Dr Ron Paul hits the nail right on the head, take head! We have all the solutions required to safe guard against these coming challenging times! Get started today by watching his video!
https://orders.cloudsna.com/chain?cid=MKT147626&eid=MKT322591&snaid=&step=start##AST58606
And for those of you who think your vote will actually make a difference in the Nov 8th election if there is one, please wake up and read this from Simon Black! I've known this for years, I'm not a US slave and when I tell people this they always say that I don't know what I'm talking about because I'm a lowly Canadian by birth. BUT here's the truth!
October 20, 2016
Sao Paulo, Brazil
The series of debates in the contest to see who will become Captain of the Titanic is finally over.

And as the smoke clears from the evening's entertainment, the main headlines are focusing on just one thing: Donald Trump's pledged refusal to say he will accept the election results.

The media is spinning itself into an absolute frenzy over this, perhaps even worse than the Pussygate tape.

It started even before the debate, with yesterday's headline in the Washington Post read, "Trump's election-rigging allegations are affecting people's faith in democracy".

The media is all collectively vomiting in disgust: how dare anyone question the sanctity and purity of American democracy?

I find this to be such a farce. The election itself is a complete farce.

Citizens aren't even voting for President. The United States is still tethered to the corpse of an electoral college system that has its roots in the late 1700s, before the Constitution was even ratified.

The reality is that the President is chosen by 538 "electors," who, in most cases, are not even legally bound to vote for the candidate to which he or she has pledged.

More than half of the states in the US have no laws to punish "faithless electors" who either abstain or vote for a different candidate, and most states have no procedure to void a faithless elector's vote.

Admittedly, this electoral college system probably made sense… in 1789.

Back then it was too difficult and logistically challenging to have a nationwide election since transportation was so slow and dangerous.

So I can understand why the Founding Fathers established this system in the early days of the nation.

But the fact that this system is still used in 2016 is a complete joke.

They pretend that America's representative democracy is the most advanced and pristine in the world, and yet it's still based on a system in which the people aren't even voting for President.

By definition this is NOT representative democracy.

As for the allegations of rigging, this is one of the things that drives me crazy about the election.

I'm not "for" any candidate. But I'm completely revolted at the blatant anti-Trump media bias.

The Huffington Post, for example, cannot even mention Donald Trump without adding an editor's note at the end of the article saying:

"Donald Trump regularly incites political violence and is a serial liar, rampant xenophobe, racist, misogynist and birther who has repeatedly pledged to ban all Muslims — 1.6 billion members of an entire religion — from entering the U.S."

Great. We all understand that you think he's a bad guy.

But what's sorely lacking is the anti-Hillary editor's note, something that would read:
"Hillary Clinton is a pathological liar and sociopath who has spent decades engaging in criminal misconduct and abusing her power to enrich herself and her supporters."
Of course, you'll never see that. The media still get starry-eyed whenever candidate Clinton walks into the room. It's revolting.

The one that I find most disturbing is the story that Hillary made up about landing in Bosnia in March 1996.

She claimed that she landed "under sniper fire," and that they all "just ran with our heads down to get into the vehicles to get to our base."

Then a video surfaced showing what really happened when she and her daughter landed in Bosnia– it was all hugs and kisses and photo ops. No sniper fire. No running to the vehicles.

Hillary claims to have "mis-remembered".

Funny thing, when former NBC News anchor Brian Williams "misremembered" being in danger during a ride in a marine helicopter, the guy was crucified and lost his job.

In fact, the people who had the biggest conniption fit over Williams' misremembering was the media itself. His colleagues turned on him in a nanosecond.

Yet when Hillary misremembers the media gives her a pass.

My dictionary describes the word "RIGGED" as when there's deliberate activity to produce a result that is advantageous to a certain person.

Well, when the media bias is so brazen, overwhelming and one-sided… RIGGED is absolutely an appropriate word to use.

It's not sad or disgusting that Trump is questioning the purity of the process or alleging that the election is rigged against him.

It's sad that it's actually happening… and that the establishment which is actually doing the rigging refuses to even entertain the possibility that it's true.

This is banana republic stuff, plain and simple.
Until tomorrow,
Simon Black
Founder, SovereignMan.com
I hope to see your resume today! Great success in all that we do together to make this world a better place!
Gary
Oct 17, 2016
Hello Everyone!
It has been a while since I've last done an update but we have a lot going on behind the scenes so I'm making time now to make sure those of you who attended our www.21stCenturyProfits4U.com introductory webinar are prepared to join me with my Business Partner Eddie S. this Wednesday Evening at 9 pm Eastern, 8 pm Central, 7 pm Mountain and 6 pm Pacific.
This webinar is by invitation only! So if you plan on becoming a working Independent Contractor for both www.21stCenturyProfits4U.com and http://www.change2100.com/THIBMART/ you need to get on board now and let me know your intentions! Email me with your resume and game plan to gdh@legacyassurance.net
The annual membership fee for www.21stCenturyProfits4U.com is $50.00USD payable by PayPal to gdh@legacyassurance.net you can sign up with this link for your personal site link here: http://www.21stcenturyprofits4u.com/affiliates/21stcentury/signup or get the Independent Contractor link from the person who introduced you to these protocols, we already have many members on board.
The one-time fee for the http://www.change2100.com/THIBMART/ is $250.00USD and is outlined in this new POWERPOINT PRESENTATION here: http://www.change2100.com/THIBMART/SALES%20PROFESSIONALS.pdf
The earning potential from these two programs is awesome! You have both USD and SPURT earning potential depending on the protocols you choose to market! There is a two level payout so you can be rewarded handsomely for building and supporting your own Independent Contractor TEAM! You could have some serious income coming in by December to finish off the year in a little style! Next year you will be well versed on these protocols and will be well paid for your efforts! See all the business that is already on the books being processed here: http://www.change2100.com/THIBMART/ISSUED-ACPN/issued-acpn.html
I have waited impatiently until now to get this going because I wanted most of the protocols to be completed and the bugs worked out and with all the new POWERPOINT PRESENTATIONS available for you to use it make this a lot easier to present to candidates! So let's all work together to make this a great finish to 2016!
I would like to remind all of you who are www.ucofc.info sponsors that in order for you to be compensated you must have all the members that you wish to be paid on have PAID FOR SPURT ACCOUNT! Each UCofC Member must send their PayPal payment to me along with their SPURT ACCOUNT NUMBER so I can update their back office with this information. This way it will show in your downline diagram and you can be paid for your efforts!
On another front, this email came to me last week regarding the Reverse Pension Plans that were marketed back in 2006 to 2008. It seems like this legal Group has taken charge and payouts may happen! There is no cost to complete your submission of the plans you were in so why not review the details and submit your request?
Here's the email:
Dear Sir/Madam,
This invitation has been sent to you by someone you know of, using the Invite page from our website. If you're invited, it means that you could have participated in one or several RPP programs in the past and you could have been eligible to claim for your undistributed payout funds.
To find out how to claim your funds, please visit www.rppremission.org and follow the instructions. You can advise others about this from our Invite page.

RPP Remission
Well that's all I've got for now, take a look at this link and document below!
https://drive.google.com/file/d/0B31SBDJxIFeJYWUwZklYRDdHYlk/view?usp=drive_web
October 17, 2016
Santiago, Chile
On May 12, 1780, John Adams wrote to his wife Abigail,

"I must study politics and war that my sons have the liberty to study mathematics and philosophy. . . in order to give their children a right to study painting, poetry, music, architecture, statuary, tapestry and porcelain."

(… to which I would add, "so that their children can hide from the world in their safe spaces.")

There may be no other quote that so succinctly surmises the rise and fall of empire.

In the early days, people have no illusions about the hard work and dedication required to create a civilization out of nothing.

Yet as a country approaches the zenith of its wealth, the mentality begins to shift.

People become less focused on production and more on consumption… enjoying the benefits of all that hard work.

Towards the end, there's hardly anyone left alive who can even remember the days that the nation had to work hard and produce.

All anyone has ever known now is consumption… being the 'richest country in the world', and enjoying all the benefits that come along with that title.

This is why there's so much debt.

Wealthy nations have become so accustomed to their lifestyles that, rather than buckle down, work hard, and produce more to keep the good times going, they'd rather simply borrow from future prosperity to pay for consumption today.

In fact, in its semi-annual Global Financial Stability Report released just a few days ago, the International Monetary Fund tells us that overall global debt is at an all-time high, now at over 225% of total world GDP.

Rich countries are leading the way with average debt at an even higher 277% of GDP, a level that makes it "difficult to grow out of the problem."

Famous economists in rich western countries have come up with all sorts of catchy reasons why no one should worry about the debt–

Reasons like, "because we owe it to ourselves," or "because we can print our own money…" abound.

People have been spouting this illogic for years to the point that it has become dangerously axiomatic through sheer volume of repetition.

If you say something enough, it eventually becomes true… no matter how wrong it happens to be.

The reality is that debt is incredibly dangerous. Even the ancients understood this.

Much of early theology and human civilization, from the Hebrews to the Romans, focuses on debt repayment and jubilee.

Even the concept of karma in Buddhism and Hinduism is about maintaining a positive moral balance sheet.

Debt is a killer. And the reason why is precisely because one person's debt is simultaneously someone else's asset.

Right now if you have, say, a $100,000 bank deposit, you have an asset. But the bank has a debt– they owe you $100,000! It's your asset, but the bank's liability.

Similarly, if you have a $1 million mortgage, you have a $1 million debt.

To the mortgage company that receives the interest payment each month, however, that $1 million loan is their asset.

So in fairness, a record amount of debt in the world also means that there's a record amount of assets.

Here's the problem: The laws of the financial universe can be bent… but they cannot be broken.

So whenever debt levels grow too large, especially when debt is being squandered on consumption and growing at a far faster rate than the economy itself, then there must be a default.

Yet a default itself is not necessarily a bad thing.

In a default, there's supposed to be an orderly liquidation process in which a delinquent borrower's assets are sold off and redistributed to the lenders.

So wealth isn't necessarily lost, merely transferred from borrower to lender.

But that doesn't always happen.

When lenders are smart, they make loans backed by high quality collateral.

Think about what a typical home loan is supposed to be: the borrower puts down 20% of the purchase price as a down payment, and the bank loans the remaining 80%.

This means that the bank's investment is backed by a house (collateral) which is worth 25% more than the initial principal balance of the loan.

This way the bank has an ample margin of safety to recoup its investment in the event that the borrower defaults.

But what happens when the collateral is worthless? Or when there's no collateral at all other than some delusion about how great the borrower is?

That's when the entire system runs into major problems.

Think back to the financial crisis: banks weren't making conservative loans.

They were offering borrowers 105% financing, more money than the homes were worth.

By 2008 bank balance sheets were stuffed full of non-performing loans where the buyers had stopped paying… yet the collateral was worth far LESS than the loan balances.

Poof. Nearly everyone took a bath, and trillions of dollars of wealth was lost in the crisis.

So the real danger isn't the amount of debt itself, but whether or not there's any collateral or high-quality assets backing the debt.

Looking at the record $152 trillion in global debt, it's clear that much of this is backed by nothing but the false promises of once-wealthy nations.

Western governments have spent years increasing their debts, but instead of wisely investing the proceeds in assets for the future, they've squandered most of it on war, waste, and consumption.

So when the inevitable occurs and there's a default, bondholders have almost no collateral to recoup their losses. Trillions of dollars of wealth will be lost.

It's often considered crazy and treasonous to even imagine a default.

Yet to deny the possibility requires a belief that wealthy nations can continue increasing their debts until the end of time without consequence.

And that may be the craziest idea of all.
Until tomorrow,
Simon Black
Founder, SovereignMan.com
Oct 7, 2016
Hello Everyone, Happy Friday!
Mario sent me this great video on how currency is presently created, this is a simplified overview that everyone needs to see and study as we have the only viable alternative to this fraud!
http://www.youarelaw.org/the-biggest-scam-causing-social-injustice/
Dear Reader,
What's the difference between a tragedy and a catastrophe, a wag once asked?
A tragedy is a ship full of bankers sinking. A catastrophe is when they can swim.
Deutsche Bank is no catastrophe, then. It can't swim. But it could become a tragedy and sink — dragging the whole financial system to the bottom.
The potentially fatal gash below the waterline: Deutsche Bank's $47 trillion in derivatives.
Jim Rickards says about Deutsche Bank's role in the world: "It is difficult to overstate the importance of Deutsche Bank not only to the global economy, but also in terms of its vast web of off-balance-sheet derivatives, guarantees, trade finance and other financial obligations on five continents."
Housing-related derivatives sank S.S. Lehman Bros. in 2008. A whole range of derivatives could sink Deutsche Bank today. According to a recent Wall Street Journal story, "David Hendler of advisory firm Viola Risk Advisors said Deutsche Bank is developing a 'Lehman-like profile.'"
And warns market analyst Chris Vermeulen, "A failure at Deutsche Bank will have catastrophic consequences for the banking system during 2016."
Lehman sank, but the "too-big-to fail" banks were thrown a lifeline. Now they're bigger than ever. And Jim Rickards says, "We're set up for an even worse catastrophe than we had in 2008."
Lehman sank, but the "too-big-to fail" banks were thrown a lifeline. Now they're bigger than ever.
We learned today that Deutsche Bank is slashing another 1,000 jobs, on top of the 3,000 it cut in June. Another straw in the wind, perhaps.
If a "Lehman moment on steroids" (Jim's term) arrives, what does recent history teach?
Simply, but deeply, this: Own gold.
Here's a chart of gold's performance after the Lehman sinking: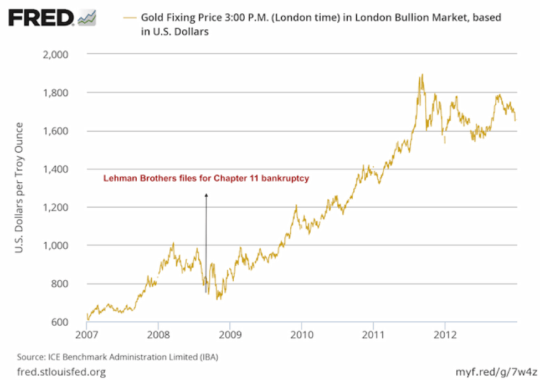 Gold dipped briefly as investors dumped assets A to Z to raise cash. But then it soared as investors sought safety from the roiling surf.
In the words of The Market Oracle:
"It is important to note how the Lehman bankruptcy and subsequent systemic, financial and economic crises showed gold's importance as a safe haven asset and as financial insurance in a portfolio… This is an important lesson from the Lehman debacle. It is a lesson that if learned will protect investors from the coming financial, economic and likely currency crises. "
Even a fairly limited allocation of gold could serve as "crisis insurance." Jim recommends up to 10% of investible assets.
One difference between 2008 and the present day bodes well for gold, the safe harbor par excellence. Gillian Tett of Financial Times had this to say in 2013:
The system depends more than ever on investor faith in central banks. One issue that caused the last credit bubble was excessive investor trust in the abilities of central bankers, both to keep inflation low and understand how financial innovation worked. Logic might suggest this blind faith should have wilted after Lehman Bros. failed. Not so; these days, all manner of asset prices are now being propped up by a sunny investor belief that central bankers know what they are doing with quantitative easing; even though nobody has tried it on this scale before, or knows how to exit.
But now, in 2016, that investor belief in central banks isn't half what it was — investors are beginning to think they're crammed aboard the Titanic, making 20 knots straight for the berg. And they see gold as a lifeboat. Trouble is, the lifeboats will fill up fast, and there won't be enough to go around when they need it.
Now's the time to get gold, before the collision.
Deutsche Bank may or may not be the iceberg that sinks the ship. But there are plenty others out there...
Below, Jim Rickards points out three of them, with a focus on what could be the most dangerous. Read on.
Regards,
Brian Maher
Managing editor, The Daily Reckoning
Editor's note: Jim Rickards believes the trouble at Deutsche Bank is one of several wild cards that could propel gold sharply higher. And after this week's big correction, gold could swing dramatically to the upside. That's why now could be the perfect moment to hop on the gold bandwagon.
| | |
| --- | --- |
| The Daily Reckoning Presents: "A financial tsunami is about to overwhelm markets, while investors are asleep on the beach"... | |
******************************




The "Risky Trinity"

By Jim Rickards
Observers are focused on tick-by-tick action in markets, and bounce from one Fed headline to the next without stopping to reflect on what's really going on. Meanwhile, the long-term trends persist. These trends don't go away just because everyone in the marketplace seems distracted all the time. The impact of these trends will not be denied.
The result of this short-term fixation is that a financial tsunami is about to overwhelm markets, while investors are asleep on the beach and don't see the wall of water bearing down on them.
This is not speculation. These large trends and their deleterious impact on your wealth have been studied rigorously by official institutions with the best information and most qualified technical staff. Their reports are often lengthy and crammed with technical jargon and scores of pages of appendices, and technical footnotes. It's not easy reading but it has its rewards.
Many official institutions either have obsolete models or political agendas that make some of their work unreliable. But there is one institution with extensive access to information and a good track record of sounding warnings in a timely way. That institution is the Bank for International Settlements (BIS).
BIS may be part of the global financial elite of which we are rightly distrustful. Yet, they have taken it upon themselves to diverge from the happy talk coming from central banks. Their recent research output has used more advanced models that incorporate some of the complexity theory and behavioral psychology that we use at Strategic Intelligence. BIS has been unafraid to call out their central bank peers on the dangers of low rates, asset bubbles, and systemic risk.
Let's take a look at what the BIS has to say about instability in the global financial system and the threat it poses to your wealth and net worth.
The Bank for International Settlement (BIS) was established in 1930 by an inter-governmental agreement among the United States, UK, Germany, Belgium, Italy, France, Switzerland and Japan. The owners of the BIS are the central banks of the BIS members, with voting power skewed heavily in favor of a small number of the largest central banks.
BIS is headquartered in Basel, Switzerland, but it operates under exemptions and immunities from the laws of Switzerland and its member countries. In practice, this means BIS is a law unto itself accountable only to its central bank members.
The original purpose of BIS was to facilitate World War I reparations payments under the 1919 Treaty of Versailles. That purpose was made obsolete after the reparations process broke down in the early 1930s. But, the BIS quickly found a new mission as a meeting venue and operations center for transactions between central banks. If effect, the BIS is a central bank for central banks, offering clearing and settlement services.
BIS also specializes in the purchase, sale and leasing of gold bullion among central banks.
BIS also specializes in the purchase, sale and leasing of gold bullion among central banks. The BIS balance sheet footnotes reveal that it conducts gold transactions for its member central banks but offers no details on the particular parties or amounts involved. In effect, BIS offers central banks an anonymous way to trade gold.
The modern-styled headquarters building of the Bank for International Settlements, (BIS), in Basel, Switzerland.
BIS operates outside the laws of any sovereign country. Heads of major central banks including the Fed, Bank of Japan, and ECB meet there monthly. No minutes of these secret meetings are made available to the public.
Despite this secrecy and BIS's status at the top of the food chain of the global financial elite, BIS does maintain a website where it offers excellent financial data unavailable elsewhere, and independent research on the global monetary system. It also hosts seminars and symposia with leading central bankers and economists around the world.
Proceedings of those meetings are available at the BIS website. (For an excellent history of the secrets of BIS, including its back-channel dealings in Nazi gold during World War Two, I recommend Tower of Basel, by Adam LeBor).
Our interest in this issue is not the history or secrets of BIS, but rather what they are saying today about risk in the financial system. Because of its broad central bank membership, BIS researchers have better insight and better data from which to form risk assessments than any research department in the world. Their work deserves special attention.
The latest reports from BIS say that the world is on the brink of another financial catastrophe worse than 2008. This is not the fever dream of some fringe website. This is the considered opinion of the most plugged-in financial institution in the world.
These fears of systemic collapse were crystallized in a report by the General Manager of BIS, Jaime Caruana, delivered on June 26, 2016, just a few months ago. This report identified three major risks and three major threats arising from those risks. Caruana called these risks the "risky trinity."
The three risks are excessive debt, lower productivity, and the absence of central bank policy options. The three threats to your wealth are systemic collapse, asset bubbles, and lost confidence in the ability of central banks to respond to crises. Today, we'll look at the risk excessive debt poses.
Investors understand that excessive debt and leverage in the form of derivatives were a major cause of the Panic of 2008, along with banker fraud and government incompetence. Since then we've heard about the remedial steps regulators have been taking to make sure such a collapse does not happen again.
The U.S. Congress passed the Volcker Rule to limit banks' derivatives exposure and risky trading. The Dodd-Frank legislation tightened up lending standards in mortgages requiring higher down payments and better loan underwriting.
Bank examiners have poured over bank books questioning any loans that were not fully collateralized or backed up by prime credits. With all of this regulation and scrutiny, one would assume that the pre-crisis mountain of debt has been whittled down to size.
Nothing could be further from the truth. In fact, debt and leverage in the system are much higher than they were in 2008, both in the U.S. and globally. The McKinsey Global Institute has provided a summary of increasing debt from 2007 through 2015. Their figures compare the periods 2000–07 and 2007–14, and break the debt into household, government, corporate, and financial (e.g. bank) sectors.
Their data reveals that total debt increased by $57 trillion since 2007. Not only did the total debt increase, but the debt-to-GDP ratio increased from 269% to 286%.
Debt-to-GDP is a critical measure of debt sustainability. If you are ever going to pay back or refinance your debt, you need economic growth to pay for it. When debt-to-GDP ratios go up, it means the debt is rising faster than the ability to pay. That's a recipe for global bankruptcy.
Their data also reveals that government debt is growing faster than household, corporate, or financial debt. This reflects the fact that the government bailed out banks, corporations and consumers in the last panic. Total debt did not go down at all.
The bail-out was simply a case of substituting government debt for other forms of debt — total debt in the system still rose. For that matter, consumer, corporate and financial debt rose also, just not as fast as in the pre-2007 period. Government debt increases more than picked up the slack.
Some estimates show that total debt growth since 2007 has now exceeded $70 trillion.
These figures from McKinsey do not reflect even greater debt accumulation since 2014. Trillions of dollars of additional debt have been incurred in the fracking industry and by emerging markets corporations. Some estimates show that total debt growth since 2007 has now exceeded $70 trillion.
In addition, there has been little inflation since 2007. That means that debt burden is real, not just the result of dollars being worth less.
On top of this balance sheet debt comes off-balance-sheet leverage in the form of derivatives, guarantees, and asset swaps of various kinds.
Not only is the debt higher, but it is also held in fewer hands, making the concentration of this debt much greater. The five largest banks in the United States now own a larger percentage of the total assets of the banking system than they did in 2008.
Everything that was too-big-to-fail in 2008 is bigger and riskier today. At the first sign of distress anywhere in the financial system, big banks will start to call in their loans from other big banks. The ability of financial institutions to rollover maturing liabilities will dry up. At that point, a financial panic bigger and more dangerous that 2008 will be underway.
In the last panic, central banks rode to the rescue by printing tens of trillions of dollars of new money and guaranteeing tens of trillions of dollars more in bank deposits, and money market funds, and by engaging in international currency swaps. But, central banks have now lost their flexibility to reliquify the system as we explain below.
The next financial panic will be much worse than the last one and will be essentially unstoppable except by the most draconian and confiscatory measures.
Regards,
Jim Rickards
for The Daily Reckoning
P.S. The power elite publicly disparages gold and urges you not to buy it. Meanwhile, they're buying it themselves and putting in in safe, nonbank storage. Gold is moving from banks such as Deutsche Bank to private vaults not owned by banks.
When it comes to the rich, my advice is to watch what they do, not what they say. The super-elites see a crisis coming, and they're getting ready. What about you?
If you can't aford the price of gold you can afford to build sweat equity in www.ucofc.info , www.myfuelclub.net and www.21stCenturyProfits4U.com come join us now and be a part of the solution and make this world a better place!
Oct 5, 2016
REMEMBER OUR INTRODUCTORY WEBINAR IS TONIGHT 9 PM FOR www.21stCenturyProfits4U.com
The webinar invitation is posted on the site under "WEBINARS" and is posted below in 2016 NEWS too! Only parts of it will be recorded as some info is for live eyes only! So if you can't make it live then you will watch the portion that is recorded and then send in your resume to request seeing the info that was "live only".
PLEASE NOTE: If you are a "netloafer" and not a "NETWORKER" please don't attend as this is for workers only! Members who are prepared to talk to business minded people via the internet, phone and door to door contact. If you would like to become a NETWORKER and will study, role play and learn the skills necessary to become an INDEPENDENT CONTRACTOR then plan on attending!
We have the tools to solve everyone's financial challenges but it takes not only seed capital but work! If you have no seed capital then it will take even more work! So if you are tired of being broke and want to change your future www.21stCenturyProfits4U.com is for you!
Come be part of the SOLUTION to make this world a better place!
Here are some revealing links that you can use to educate yourself and others too!
http://nesaranews.blogspot.com/2016/10/anna-von-reitz-fed-v-imf.html
for those of you who are involved in COLBs, here's Anna's take on them:
http://nesaranews.blogspot.com/2016/10/colbs-social-security-rvs-gold-hoards.html
and this is a very important video to watch:
http://nesaranews.blogspot.com/2016/10/refugee-resettlement-most-americans.html
and last but not least:
http://forbiddenknowledgetv.net/the-real-cost-of-the-war-of-terror/
Oct 3, 2016
Sovereign Valley Farm, Chile
It's official.
The United States government closed out the 2016 fiscal year that ended a few days ago on Friday September 30th with a debt level of $19,573,444,713,936.79.
That's an increase of $1,422,827,047,452.46 over last year's fiscal year close.
Incredible. By the way, that debt growth amounts to roughly 7.5% of the entire US economy.
By comparison, the Marshall Plan, which completely rebuilt Western Europe after World World II, cost $12 billion back in 1948, or roughly 4.3% of US GDP at the time.
The initial appropriation for the WPA, perhaps the largest of Roosevelt's New Deal "make work" programs that employed millions of people, cost 6.7% of US GDP.
And, more recently, the US $700 billion bank bailout at the beginning of the 2008 financial crisis was the equivalent of 4.8% of GDP.
So basically these people managed to increase the national debt by a bigger percentage than the cost of the New Deal, Marshall Plan, and 2008 bank bailout.
What exactly did you get for that money?
Did they spend $1.4 trillion on achieving world peace, eradicating poverty, saving the planet, or some other pipedream?
Did they finally fix America's crumbling infrastructure that has been in desperate need of repair?
Did they send a gigantic tax refund check to every man, woman, and child in the country?
Actually the answer is (D), none of the above. They squandered it all.
In fact, the 2016 fiscal year had the THIRD largest increase in government debt in US history.
The only two previous times in which the debt increased more than the 2016 fiscal year were during the financial crisis.
But there was no financial crisis in 2016.
The government didn't have to spend hundreds of billions of dollars to bail out the banks.
All things considered, 2016 was a pretty normal fiscal year for the federal government. There were no major emergencies to drain taxpayer funds.
Yet they still managed to blow $1.4 trillion because this level of waste and spending is now baked into the system.
Even if they dramatically slashed spending and got rid of entire departments of the federal government, they would still be hemorrhaging cash at a rate far greater than the economy can now possibly grow.
Social Security and Medicare are now the largest parts of that financial sinkhole, and according to their own projections, their drain on the budget is growing each year.
All other government spending COMBINED pales in comparison to Social Security and Medicare.
So if you add up military spending, homeland security, national parks, and President Obama's jet, it's just a fraction of what they spend on Social Security and Medicare.
These programs consume the vast majority of US tax revenue, forcing the government to borrow mind-boggling amounts of money to fund its operations, even in good times.
(Just imagine how much the debt will grow when times get tough again.)
What's even more crazy is that Social Security and Medicare aren't even properly funded. Both are rapidly running out of money.
The programs' annual trustee reports show that their primary trust funds will become completely depleted starting in the next few years.
In fact one of Social Security's major trust funds for Disability Insurance was actually fully depleted last year.
So even though these programs are already draining taxpayer resources and forcing the government to take on more and more debt, they are in need of a HUGE bailout.
This leaves precisely ONE option: default… but on whom?
It's possible the government could try to borrow the $42 trillion that they calculate is necessary to make these programs solvent again.
That seems extraordinarily unlikely.
But even if it were possible to print and/or borrow that much money, it would either create a terminal currency crisis, or force the US government to default on unaffordable interest payments, throwing the financial system into chaos.
The other option is to simply default on the future beneficiaries of these programs, telling people, "Hey sorry, we wasted all of your money and there's nothing left."
So their choice comes down to either screwing the banks or screwing the taxpayer.
Gee I wonder which option they'll pick…
Until tomorrow,
Simon Black
Founder, SovereignMan.com
Sept 28, 2016
Hello Everyone!
September draws to a close and it has been a very eventful month with changes both good and not so good! Let's do a recap!
GOOD:
1) NEW BUSINESS MEMBER PAYMENT 2000.00SPURT! This protocol concept was introduced by Michel C. as a great way to reward members for finding businesses that will accept a portion of SPURT to build local SPURT COMMUNITIES!
2) GROCERY RECEIPTS now accepted for SPURT REBATES along with your FOSSIL FUEL RECEIPTS
DEFINITION OF GROCERIES, WHAT CAN AND CAN'T BE SUBMITTED FOR SPURT REBATES
(FAILURE TO FOLLOW THESE GUIDELINES WILL DISQUALIFY YOUR REBATE SUBMISSION!)
1) Consumable food products include but are not limited to meat, vegetables, cereals, grains, cookies, candies, dairy and eggs.
2) All non-alcoholic beverages are included but are not limited to bottled water, dairy, juices and sodas.
"Groceries" do not include the following:
1) Paper, aluminum and plastic wraps and bags etc.
2) All Cleaning products
3) All building and repair products
4) No prescription or non-prescription drugs and/or vitamins
You have two options for rebate submissions:
1) When you shop create two receipts during checkout, one for the qualifying GROCERIES and BEVERAGES and the other for everything that does not qualify based on the above list. This would require sorting prior to check out but this is the best way to create an accurate grocery receipt for submission.
2) The alternative is to check everything through on one receipt, then cross out non qualifying items, subtotal them and subtract from the grand total leaving your qualifying grocery and beverage total for submission.
That's all there is to it follow the fuel rebate submission instructions, you can include the grocery submission with your fuel rebate submission.
3) ELECTRIC/UTILITY BILL RECEIPTS: Also you may now add your electric utility bill receipt as part of your fuel rebate submission! Regardless of how the electricity was generated! This is another awesome rebate opportunity so tell everyone you know!
4) We have completed the fund raising efforts for the SWEDISH TRUST COMPANY to complete CUSIP/ISIN registration and EUROCLEAR and SWIFT applications and registration! JJ is working to complete all of these compliance issues to allow for FT ASSET MANAGEMENT to create its digital currency exchange facility!
5) Oct 1st will be the anniversary of our first year offering SPURT COMPENSATION for MYFUELCLUB! It has been a resounding success with over 75MM SPURT paid out! When everyone completes their SPURT ACCOUNT REGISTRATION this will go up OVER 300MM SPURT! That is what is owed to those who have yet created their accounts!
6) Oct 5th will be the OFFICIAL LAUNCH of www.21stCenturyProfits4U.com There will be a special OFFICIAL LAUNCH webinar AT 9 PM EASTERN on Wednesday Oct 5th, watch for webinar details!
So as you can see there has been much positive progress made in giving you the tools to build your local SPURT COMMUNITY and prepare everyone for the massive changes that will occur after Oct 1st worldwide! You have the solutions to help everyone you know so take action now while there is still time!
NOT SO GOOD:
1) SO AS OF TODAY, SEPT 14TH, NO ONE GETS PAID ANY SPURT UNLESS AND UNTIL THE MEMBERS THEY WISH TO BE PAID ON HAVE A SPURT ACCOUNT SET UP AND LISTED IN THEIR BACK OFFICE OF THEIR MY FUEL&GROCERY CLUB ACCOUNT. This is for www.ucofc.info payroll requests only and does not include MY FUEL&GROCERY CLUB payment requests and rebates. This change was implemented to eliminate Sponsors from abusing the system! Of course most members did not abuse the system but those who did, milked the UCofC SPURT ACCOUNT for MILLIONS! So we have lots of members who will never be a part of the solution, will never get a SPURT ACCOUNT and will never promote SPURT to make this world a better place. The bleeding has been stopped and the MYSPURT ADMIN and I have come up with some additional solutions to help those who have yet to create a SPURT ACCOUNT in order to be paid on and for sponsoring efforts!
Here is the posting from the http://myspurt.org/information/mfc-ucoc site
September 26, 2016
Dear MySPURT clients sponsored through THE ULTIMATE COLLEGE OF COMMERCE (UCofC) or MY FUEL&GROCERY CLUB (MF&GC).
Some clients contacted MySPURT regarding the changes UCofC made in their payroll policies requiring anyone you wish to be paid on to have a SPURT account. This change did not include MF&GC, only UCofC.
As you all might know MF&GC/UCofC is a client of MySPURT and MySPURT is not responsible for decisions MF&GC/UCofC is making as MF&GC/UCofC is not responsible for decisions made by MySPURT.
We contacted MF&GC/UCofC and discussed the situation to make sure we heard both sides of the story correctly.
The intention of MF&GC/UCofC is to make many people aware of the existence of SPURT, which is good, for the more people that have SPURT, the better people can pay each other with SPURT. And businesses connecting to SPURT can provide us all products and services, payable, partly, and eventually fully with SPURT.
MF&GC/UCofC has paid out over 75 million SPURT to their members since last Oct 1st, 2015. It has been noticed though that many of the sponsored members are family members and friends, who never wanted to do anything with MF&GC/UCofC, but were sponsored to provide their sponsor thousands of SPURT and is some cases millions of SPURT. These sponsored members are obviously not interested in building MF&GC/UCofC or the use of SPURT, for they have not opened a SPURT account. Many of them do not even know what they signed up for! This causes the mission of MF&GC/UCofC to fail. MF&GC/UCofC has also discovered incorrect and even fake email addresses are set up for the purpose of scamming the MF&GC/UCofC programs to "earn" a lot of SPURT by sponsoring non existing people. We are also very aware that not all clients receiving SPURT used this practice, but there are more than just a few.
Too many sponsors have received SPURT for inactive or fake sponsorships. This in itself is against the MySPURT Terms and Conditions and all accounts of clients who used this practice can be closed.
We are convinced that most MF&GC/UCofC members never studied the advantages of having a SPURT account, but THIS was exactly the original idea from MF&GC/UCofC: to PROMOTE SPURT.
In coordination with Gary Holmes, Founder of MF&GC/UCofC we have decided to stick to his original idea and give all sponsors a chance to prove that they earned their SPURT in an honest way and that their signups are REALLY interested in receiving SPURT
This honest way will be that all sponsored members show their REAL interest in SPURT and MF&GC/UCofC. No longer will a sponsor be paid for each signup, not yet having a SPURT account. So Gary and MYSPURT Admin have come up with some options for payroll payments. (This counts also for sponsors that feel betrayed by the changed rules in MFC.) The modification of Sept 14th requiring Sponsors who wish to be paid on their sponsored members to each have a SPURT Account still holds true but here are some additional options to make that requirement easier to be fulfilled.
The following choices are now available:
Urge the signups to study the MySPURT website, so they understand what is offered and...

Instruct them on how to

open a MySPURT account

If they cannot afford a MySPURT account, they can find 5 other people willing to open a MySPURT account and have a MySPURT account earned on their credits.

If they cannot do that, they can find a

business interested in working

with MySPURT and earn a FREE account + Euro.
If they live in a country where 50 Euro is really a lot of money or there are special circumstances that limit their ability to pay, you can write an email to

MySPURT

to discuss the situation.
Everybody has something they can sell, even if it is second hand but still valuable. So you can provide products for sale in the Marketplace of MySPURT. Even people who do not have an account can see those products.

You can go to:

http://b.myspurt.org/cyclos/SPURT#marketplace.advertisements.search

. If you want all products to be shown, you can click on List Ads on the right hand side. You can also add in the keyword your country and see the advertisements for your country. (Only clients who added their address will be showed.)
Add products to the Marketplace
We understand that you cannot add a product, when you do not have an account. For that reason MySPURT will open ONE account (per country) for all of you who cannot afford to have an account just yet, but are REALLY interested in working with SPURT.
Access to that account can be requested by your SPONSOR and you have to write an email to your sponsor, which shows that you can and will add 5 (FIVE) products for sale, (so your sponsor can check if they are according to the rules of at least being partially paid with 10% in SPURT.
To list the products through these accounts, you have to add your name and email, so people know where to request the products. NOTE: Sponsors who will use the same ads over and over again, or cheat in any other way will be considered as violating the Terms and Conditions of SPURT.
The Sponsor submits this email with their PAYROLL REQUEST email outlining the ad to MF&GC/UCofC to prove that the newly sponsored member/s is/are real and really interested in a MySPURT account, but just cannot afford it yet, and you will be paid by UCofC for the person/s that proved their interest this way.
The sponsored person might earn enough money by selling their products to pay for their account and this brings them to understand why SPURT is so valuable.

Also have each member sponsored who does not have the 50 Euro consider saving a little each week so that in 6-10 weeks they will have the money to open the account.
A video on myspurt.org under Information shows how you can add an advertisement.
In other words: Interested people who really WANTED to be signed up, can be validated by what they DO to PROVE that they are real and interested. And... to be honest... MySPURT does not WANT clients who are NOT interested in what they have earned. Also MySPURT does not want people earning their money in a dishonest way.
We hope you understand the importance of these changes to solidify the future value of SPURT and its ability to be a major contender in the digital currency world. YOU need to educate each candidate that you sponsor as to the real reasons and value of SPURT to make this world a better place, thank you.
Kind Regards
MySPURT Team
and
MY FUEL&GROCERY CLUB (MF&GC) & THE ULTIMATE COLLEGE OF COMMERCE (UCofC)
I am very pleased to see the true leaders are adapting to this SPURT ACCOUNT requirement and are making great headway in building their CELL GROUPS and ASSEMBLIES! Our first SPONSOR LEADER to have completed a CELL GROUP with all members holding a SPURT ACCOUNT is Marja Poorter from Slovenia!
She is truly committed to making this world a better place and has gone to each and every one of her 1st and 2nd level members and made sure they acquired their SPURT ACCOUNT! She did all of this since Sept 14th when the announcement was made and there has been added two new members in her second level to complete her first CELL GROUP 1! Take a look at this awesome effort!
CONGRATULATIONS!!!! Marja 1244018SP Poorter CORP PLAT SP
ASSEMBLY 1 UCofC PAY PERIOD ENDING Sept 28, 2016: 103,000.00SP
CELL GROUP 1, LEVEL 1:
A) Romina 1244058 SPU Prkic2000.00SP 4-14
B) Igor 1244086SPU Prkic 2000.00SP 5-9
C) Svemir 1244091 SPU Listes 2000.00SP 5-11
CELL GROUP 1, LEVEL 2:
1) Zeljka 2433228 SPU Listes 1000.00SPU 8-29
2) Matko 9155322 SPU Lisicic 1000.00SPU 9-28
3) Ivan 9391726 SPU Lisicic 1000.00SPU 9-28
1/2/3 COMPLETION PAY 1000.00SPU 9-28
4) Irma Elizabet 7584759 SPU Poorter 1000.00SPU 8-30
5) Ridouan 2489861 SPU Poorter 1000.00SPU 8-30
6) Lamin 8874964 SPU Kaba 1000.00SPU 8-30
4/5/6 COMPLETION PAY 1000.00SPU 8-30
7) Dijana 4924313 SPU Listes 1000.00SPU 6-28
8) Sanda 4777275 SPU Listes 1000.00SPU 6-28
9) Neno 9144857 SPU Matic 1000.00SPU 8-29
7/8/9 COMPLETION PAY 1000.00SPU 8-29
TOTAL PAID=100,000.00SPU CELL GROUP 1 ASSEMBLY 1 COMPLETION PAYMENT 9-28
GREAT WORK MARJA!
So you see it can be done just by changing your attitude and doing the work!
FOR THINGS TO CHANGE, I MUST CHANGE, FOR THINGS TO GET BETTER, I MUST GET BETTER! IF IT IS TO BE, IT IS UP TO ME! Here's a great article to support this statement:
September 27, 2016
Santiago, Chile
I used to watch wrestling when I was a kid… I come from the age of Hulk Hogan, Ultimate Warrior, and Randy "Macho Man" Savage.

Huddling close to the television each weekend, my friends and I would cheer for our favorite stars and their signature moves.

My dad ruined it all one day when I was about 6 years old; he pulled me aside and said casually, "You know it's all fake, right?"

I was stunned. It seemed so real… the matches, the hits, the drama.

Every time Hulk Hogan would be at the point of near-exhaustion, and then rally to victory from the chants and cheers of the crowd, I had believed it all.

When I actually started paying attention it became obvious that professional wrestling was a farce staged purely for entertainment purposes.

Funny thing– even though I knew it was fake, I continued to watch wrestling for several more years, until I was probably 10 or 11. It was, after all, still entertaining.

That's how I felt last night watching the Presidential debate.

It was pure entertainment… a guilty pleasure that ranks somewhere between Wrestlemania and stuffed-crust pizza.

I know a lot of people feel the same way, that debates are meaningless vacuums of intelligent discourse which are simultaneously entertaining and awkward to watch, like witnessing two intoxicated lovers engage in a very public, dramatic breakup.

Sadly, this is what passes as a critical component of the political process in the most advanced economy in the world.

I recognize that people feel they have an important choice to make, whether to give the system a deserved enema or maintain the status quo… and that perhaps they'll glean some insight into the candidates' agendas by watching the debates.

In reality you'll find more substance in a fourteen year old's Twitter feed.

There's no talk of actual plans, metrics, priorities, or details… just a bunch of zingers and platitudes.

That's not how things are supposed to work in the real world.

I run several companies– agriculture, manufacturing, publishing, and now banking, with a total of roughly 350 employees.

Our management teams lay out concrete plans to the stakeholders articulating the specific goals and vision of each business, how we achieve those objectives, and what specific metrics can measure our performance.

Plus regular updates report on our progress, any deviations to the plan, and whether or not we are on-time and on-budget.

This isn't rocket science or some radically innovative concept. It's what any competent, ethical business manager does.

But that's not how government works, and it's not how the political system works.

Whenever I visit the US, people frequently ask me who I'm voting for.

It came up over dinner on Saturday night in Connecticut with Peter Schiff and his wife Lauren.

I typically joke that Trump is the only qualified candidate because he's declared bankruptcy so many times… and with nearly $20 trillion in government debt, you want to have someone in office who knows which paperwork to file.

But my honest answer is that I don't vote.

For starters, it doesn't actually matter who's in office.

The government spends nearly the entirety of the tax revenue it collects just to pay interest on the debt and cover mandatory entitlement programs like Social Security and Medicare.

They could literally cut everything we think of as government, from the military to the Internal Revenue Service, and it would barely make an impact.

Plus, even the government's own optimistic projections show that the debt will continue to grow at a much faster pace than the economy itself.

So any choice ultimately leads to the same set of extreme economic consequences.

But it's more than that.

As I explained to my friends, voting only validates a rotten system that has not only abandoned its primary stakeholders, but is now rigged against them.

Besides, what are we really voting for anyhow?

People typically cast a ballot for the person they believe will bring the most prosperity.

But this is ludicrous when you think about it. Can we really expect that some politician thousands of miles away will magically increase our incomes?

No. WE are the ones who have the most influence to grow our own prosperity.

From learning new skills to making better investments, starting businesses, cutting taxes… we have nearly unlimited ways to become more prosperous and provide a better life for our families.

So the truth is that there's only one viable candidate to make your dreams and ambitions a reality. That's you.
Until tomorrow,
Simon Black
Founder, SovereignMan.com
Friday, September 30th, 2016:
D-DAY
For The U.S Dollar
On Friday, September 30th...
a new kind of "world money" goes live.
When it does, it could unleash a devastating crash for the U.S.
dollar... a massive implosion for U.S. stocks... and send gold
soaring as high as $10,000 an ounce.
Here's how to protect yourself...
The US is tightening the reigns over our freedoms and bank accounts in preparation of the world's biggest financial reset in history.
Read below to see what I mean...
Did you know that :
1) In December 2015, the US government passed a law giving itself the authority to confiscate people's passports if the Treasury Department feels in its sole discretion that a citizen owes them tax.
2) According to a 57 page memo that shaped the Obama's response to the banking crisis, the "real" amount needed to fix the economy back in 2008 was $1.8 TRILLION. Congress "borrowed" much less, and have been leaning on the Federal Reserve to stay at 0% interest rates in order to shore up the remainder. This weeks' continued stalemate is proving that its just not enough. The Greatest Depression is coming. Soon. Oh, and the US is broke… like really broke.
3) FATCA (Foreign Account Tax Compliance Act) continues to roll out through the end of 2018. And with over 80 nations complying, here is FATCA's real impact: Foreign Banks will not touch Americans' money. Why? They don't want to be subject to the arbitrary fines and penalties if they mess up the complicated regulatory mess. Its just not worth it for them. What does this mean for Americans? Your Dollars are TRAPPED in the US system (which they are tightening the strings on).
4) More Capital Controls. Banks are far from transparent about where and why their policies exist. But in the last few years, we have seen more reports of banks denying incoming wire transfers, and refusing customer request to withdraw money over a certain amount (even as low as $3,000 USD). This will continue to tighten, until the mother-of-all restrictions occurs: A daily withdrawal limit. It could be as low as $10 a day, depending on how bad the "Crisis" is. And essentially, you would not be able to access your money (or what's left of it)…
5) Bail-Ins are COMING. As soon as the next crash happens, it won't be the government stealing from tax payers through inflation. Nope. They are just going to help themselves to a portion of YOUR MONEY in YOUR BANK ACCOUNT. This is terrible news for anyone who has savings in the bank, or hopes of retiring.
It's already started, and the real consequences are still to come– higher taxes, deeper capital controls, heavier enforcement. And the last domino could fall on September 30, 2016.
Why September 30? Find out right here.

And remember, companies always "fire" people on a Friday because there is nothing anyone can do over the weekend.
Its a good day to crash the economy.
Get Ready,
Max
Now most of you have no funds to buy gold as this article suggests you do but you all have a mouth and people to talk to and we have all the solutions that everyone needs to participate in to protect themselves from these coming months of financial world turmoil! Take action NOW! Be a part of the solution!
Sept 21, 2016
Happy Wednesday Everyone!
I'm happy to see that not everyone has quit sponsoring new UCofC/MF&GC Members! I've even paid several members who have complied with the new payment protocol, now they are serious about building a SPURT COMMUNITY! How about you? Were you just milking the UCofC for all you could get with no regard to having people build a SPURT COMMUNITY with you or are you truly committed to making this world a better place? Only you know the answer to that question!
Ann T from Ontario Canada is truly committed to building SPURT COMMUNITY so much so that she has just sent me her complete Flyer to approach businesses with! She even gave me permission to share it with you to use if you want to make use of it in your local area!
Thank you Ann for this excellent Flyer!
We are making great progress on our new www.21stCenturyProfits4U.com website all because of Don Askew! He is doing an awesome job of piecing this new site together. This site is designed to bring active sales professionals to our membership and is another great way to earn both SPURT and USD currencies, 20% 1st level and 10% 2nd level! All transactions will be assisted by me so you are not in this alone. You have the contacts and I have the skills and we work together doing 3 way calls and webinars to educate your candidates on what solutions will be best for them!
If you wish to participate in the earning of both types of compensation there is an annual membership fee of $50.00 to have access to all the training info and earning potential this site has to offer. You and your candidates can see all of what is offered without paying the membership fee so take a look and see if this site's offerings are something you might be capable of doing! This site is not for everyone and will require a sales minded attitude and sales skills that will be taught to you! If that is you, there is serious income available from the opportunities offered here! Remember the 6 DEGREES OF SEPARATION https://www.theguardian.com/technology/2008/aug/03/internet.email Remember it's not what you know, it's who you know and who you are possibly connected to! So who do you know that has a 401K or other government tax sheltered savings program that is dying on the vine or who do you know that will benefit soon from the global currency reset of the Dinar, Dong, Zim or other currency that will revalue through the roof! They all need to see the opportunities on this website to have the choice to choose better protection, safety and earnings for their wealth pool!
The only constant that we have is CHANGE! Only we can make this world a better place, not the governments, not the bankers only you and I! I'm committed to doing something positive about this ugly evil world that has been created and controlled by the power cabal are you too? Then let's work together to make this world a better place!
Here's some more info to use to help you educate those who are truly dumbed down and need a wakeup call to see there is a better way to live!
September 16, 2016
Sovereign Valley Farm, Chile
Yesterday we talked about how the banking system is MUCH riskier than most people are led to believe.

And there is a growing chorus of high ranking regulators and officials saying the same thing, ranging from the Vice Chairman of the FDIC to former US Treasury Secretary Lawrence Summers.

I compared the banking system to airport security. As we discussed yesterday, airport security isn't real security. It's merely the illusion of security.

It's the same in the financial system.

It's not to say that banks are on the verge of collapse. But most of these new tough banking regulations are just smoke and mirrors designed to create the illusion of bank safety.

I'll give you a few examples:

1. Bank "stress tests" are totally useless

As part of new financial regulation, the Federal Reserve conducts annual "stress tests" of US banks to determine whether or not they will be able to withstand a financial crisis.

These tests are totally useless.

The Fed essentially throws a bunch of scenarios at the banks to see what will happen to their balance sheets if, say, the stock market crashes and GDP grinds to a halt.

This sounds like a great idea.

But what these stress tests fail to take into consideration is that in a real crisis (like we saw in 2008), just about every nightmare scenario occurs at the same time.

Markets crash. GDP goes negative. Unemployment surges. Then major institutions collapse, which causes other major institutions to collapse.

The Fed's stress tests assume that bank failures happen in a vacuum. They don't. When one major bank fails, it drags the other banks down with it.

That's precisely what happened in 2008. Lehman Brothers went under, creating a financial maelstrom that nearly brought down the entire financial system with it.

Bottom line, the Fed's stress tests are far too rosy and academic to be worthwhile. As Bloomberg's editorial board points out,


"[The Fed's stress test] also assumes that a thin minimum layer of equity capital -- just $4 per $100 in assets -- would be enough to maintain the market's confidence in a bank's solvency. These flaws make a passing grade almost meaningless."

Yet even though the stress test results are pointless, the Fed publishes them as an ultimate blessing that the financial system is healthy and sound.

Once again, it's not real safety… merely the illusion of safety.

(It's also ironic to point out that the Federal Reserve itself is nearly insolvent and would fail to pass its own Mickey Mouse stress test.)

2. Regulations for increased bank capital are a complete joke

Many of the new financial regulations require banks to increase their levels of capital. And these rules are perhaps even more useless than the stress tests.

In banking, capital is like a bank's emergency reserve fund.

If things go horribly wrong and their assets start plummeting, a bank with generous capital reserves will be able to stay solvent. Poorly capitalized banks will collapse.

Lehman Brothers is an easy example.

It used to be one of the top investment banks in the world. Yet died a painful death in 2008 because its capital reserves were tiny compared to its massive investment losses.

As a result, regulators started requiring banks to hold more capital.

But there are so many loopholes in these rules that banks can easily hide their true financial condition.

It's so bad that the FDIC's Vice Chairman stated last month that the system "too easily allows banks to conceal risk," and that the banking system's true levels of capital reserves are "inadequate for bank resiliency".

3. The Volker Rule farce

This one is probably the most hilarious.

One of the toughest provisions in all the new financial regulations, the Volker Rule, restricts banks from buying risky assets or engaging in risky investment behavior that doesn't benefit their customers.

Duh. Did they really need to pass a law about this? Apparently so.

But here's what's interesting: by the time the Volker Rule was passed, bank balance sheets were already stuffed full of these prohibited assets.

So the banks were given until July 21, 2012 to liquidate risky assets.

That didn't happen, and the deadline was extended. And again. And again. Now the deadline is out to 2022... ten years after the original one.

Why? Simple. Because no one wants to buy those risky assets, certainly not at full price.

If the banks sold their riskiest assets now, they'd suffer enormous losses… which means their capital levels would take a big hit (see #2 above).

Neither banks nor regulators want that.

So rather than tell the truth about their real financial condition, they keep extending the deadline.

Meanwhile, banks are allowed to continue holding these risky assets on their balance sheets at full value, as if they're worth 100 cents on the dollar.

There's a word for this: fraud. But it's totally legal when banks deliberately conceal the truth.

These are just three tiny examples of what's really happening in the banking system.

Sure, they publish glowing stress test results and financial statements that show generous capital reserves.

Politicians and regulators point to their tough rules that have 'cleaned up Wall Street.'

But it's all an illusion.

And it only takes a quick peek under the hood to realize that there are SUBSTANTIAL risks in the banking system, certainly more than we are led to believe.
Until tomorrow,
Simon Black
Founder, SovereignMan.com
September 20, 2016
Santiago, Chile
A few days ago, the federal debt of the United States rather quietly and unceremoniously passed the $19.5 trillion mark.

And while that figure may seem absolutely confounding, what's even more alarming is how rapidly the US government is racking up this debt.

In fact, for the 2016 fiscal year that ends in just ten more days, the US government's debt growth of $1.36 trillion is on track to be the third biggest annual increase ever.

The only two years in all of US history that posted higher US debt growth were 2010 and 2011-- the peak of the financial crisis.

Even more acutely, last month the US federal debt grew by $151.5 billion.

Not counting the financial crisis, and a few anomalous months following a debt ceiling reset, August 2016 was the single biggest expansion of US debt EVER.

In other words, US federal debt is expanding at its fastest rate since the financial crisis, and one of the fastest rates in all of US history.

This isn't supposed to be happening. We're in 'peacetime'. The financial crisis is over. The economy is supposedly growing, and unemployment is supposedly falling.

None of the normal big deficit triggers exists; if you read the mainstream press, the news about the US economy is all rainbows and buttercups.

You'd think they would actually be running a surplus at this point and paying down the debt. Or at a minimum the rate of debt growth would be shrinking.

But no. Despite all of this good economic news, the government is still piling up debt at record levels.

If the debt is growing this quickly in good times, just imagine how dire the debt situation will become once the economy slows down and recession kicks in.
Until tomorrow,
Simon Black
Founder, SovereignMan.com
This is a rather lengthy article but worth a read! Remember they are have their solutions and you are more than welcome to use them BUT I believe WE have the most inexpensive and most bang for the buck solutions right here for you and all your contacts to engage in and you earn assisting them in creating their solutions without affecting their wealth!
https://orders.cloudsna.com/chain?cid=MKT232586&eid=MKT310237&snaid=&step=start##AST44484
Last but not least, an overdue prayer request for Cliff and his wife! They are truly challenged in their senior years, please pray for them and spread their prayer request to your prayer warrior family and friends too!
Gary, please post a prayer request for my wife Lola, she is having a real hard time with her breathing,
her COPD is giving her a hard time. She needs to improve or she will have to go into the hospital again.
I finally got the brace for my right ankle so it does not hurt all the time. The infection in my left foot is
starting to heal after 8 weeks of trying to get rid of the infection. Thank you for your patience and help.
Clifford A Chamberlain
Gary, My wife is having a very hard time breathing and if this keeps up she will have to go
back into the hospital. She is very tired and has no strength. We have been together for 47 years and
I would be very lonely. Please put her on our prayers list.
Thank you,
Clifford A Chamberlain
My wife Lola
Gary,
This last weekend my wife ended up in the hospital and they sent her home on Monday even though
she could not do anything but try to get her breath. She told me tonight that she is so tired and that
she was so worn out that she hardly has the energy to eat. We, like so many senior citizens, are so broke
that we cannot even get the medical help that we need. If you would put my wife's name in our
prayer request it would be very appreciated. I am so pleased to see so many new members and
that there are somebody that has the time and energy to follow up on what they have told people
and getting them to sign up. Sorry to have to tell you about my problems.
Clifford A Chamberlain
Set 16, 2016
I hope each and every one of you has embraced the necessary changes outlined in the Sept 14, 2016 NEWS UPDATE!
Here's a REVIEW: SO AS OF SEPT 14, 2016 NO ONE GETS PAID ANY SPURT UNLESS AND UNTIL THE MEMBERS THEY WISH TO BE PAID ON HAVE A SPURT ACCOUNT SET UP AND LISTED IN THEIR BACK OFFICE OF THEIR MY FUEL&GROCERY CLUB ACCOUNT.
YOU will instruct them to place their SPURT ACCOUNT NUMBER at the end of their first name like this "Gary 1243811 SPU". This format will show up in your back office downline and let you know when you should submit your payroll request email.
That is simple and easy to do and they have to do it and you as their responsible sponsor have to help them! This will confirm that you as their sponsor have instructed them to get a SPURT ACOUNT in order for you to both be paid.
This will ensure that there is a line of communication open between the true sponsor and the member and this will let me know that the member wants to be active at some point in the programs as they paid their 50.00 EURO to set up their personal account in order to eventually be paid for their sponsoring efforts. This solves this abuse situation without harming the RESPONSIBLE SPONSORS who truly wish to make this world a better place!
UNFORTUNATELY, I'm still getting payroll requests so I guess somehow you think that YOU are exempt from this new SPURT ACCOUNT RULE? EVERYONE must have SPURT ACCOUNT opened and listed in their back office at the end of their first name in order to receive SPURT COMPENSATION!
EXAMPLE: Valentin has almost everyone on his 1st level with a SPURT ACCOUNT, now he is coaching them to do the same! SEE the example below as this is what I need to see in the downline in order to pay you!
view downline for Valentin 1243975 SPU Rozman CORP PLAT SPU
* click on each user to expand their downlines
316 total users - showing 10 level(s)
10 total levels

As you can see under the new SPURT ACCOUNT RULES the second level members do not have SPURT ACCOUNTS LISTED so he and their SPONSORS cannot be paid on them yet! It is your job to see that your 1st level members help their new members get their SPURT ACCOUNT so you can receive your CELL GROUP COMPLETION PAYMENT! No one can milk the system anymore!
This will have very positive long term results in our efforts to build SPURT COMMUNITIES with strong LEADERS! Here is a response I received from a supportive member who didn't have the correct mindset taught and internalized in order to build his CELL GROUP correctly! KUDOS to them for their honesty and integrity outlined in their APOLOGY!
APOLOGY EMAIL RECEIVED: APOLOGY ACCEPTED RESPONSE
Hello (Member's name withheld)!
APOLOGY ACCEPTED!
Thank you for taking the time to explain your situation! It is greatly appreciated and it shows where your heart truly is!
I'm sorry that I've had to take such drastic measures with the UCofC/MF&GC programs but I've had a few bad eggs that have really abused the system and not from lack of knowledge as in your case as you stated!
They had greed in their intentions! They were signing up people without the knowledge or consent of the member and didn't even know these people; they were picking up the names off blogs and company business directories!
One of these members triggered my attention to the problem at hand; it actually was two things, 1) several complaints by new members who said they did not request membership and 2) using "noreply" business emails! When they were confronted they lied and they said it was only one member that they did this with! NOT!
Unfortunately to set the programs back on course for everyone, the SPURT ACCOUNT requirement is necessary to protect the longevity of funds to look after the true builders in UCofC/MF&GC!
I've arranged to get the UCofC funds wrongfully procured back through the SPURT ADMIN so we will recover over 2MM SPU paid out to these people and there are others who unfortunately have brought hundreds to the program with the intention to make lots of SPURT but have no plans on helping their members do the same! The damage is done and I don't have time to review all of them but I know that with these new SPURT ACCOUNT requirements no one can really milk the system by signing lots of people up who have no intention of doing anything!
UCofC/MF&GC are real simple and easy businesses!
Sponsor three people who like you and trust you and you like and trust them! They must have a desire to make this world a better place and help build your SPURT COMMUNITY with you! Once they have gotten their SPURT ACCOUNTS OPENED and submitted into their back office at the end of their 1st name, you may submit your PAYROLL REQUEST email and receive 6000.00 SPURT! You then PURCHASE your CORPORATE PLATINUM SPURT MEMBERSHIP or any other membership that you want and you can now submit your fuel and grocery receipts along with your electric bill, based on the membership purchased, then teach them to do the same!
What can be easier and simpler?
If they are not interested in earning serious money, making this world a better place by build SPURT COMMUNITIES with you and having $65.00USD to set up their SPURT ACCOUNT they are a "NEXT"! They can easily save $10.00 a month for seven months if they really want it bad enough or they can join and build their CELL GROUP but not be paid until they have their SPURT ACCOUNT that is their choice but they must be committed to doing the work for their CELL GROUP not you! How else will we ever build SPURT COMMUNITY LEADERS and PROSPERITY CENTERS? http://myspurt.org/prosperity-centers
When you have assisted them to get their three people complete with SPURT ACCOUNTS you now have a complete CELL GROUP in ASSEMBLY 1! Now you may request your 100K SPU CELL GROUP COMPLETION PAYMENT while it is available!
This can happen every month or even sooner if that is your desire! Your job, your work and your opportunity is two find three people who want to make this world a better place and get paid handsomely to do it!
So which is better for the good of all? One member who sponsors and builds 2-3 ASSEMBLIES on their own and earns over 708K SPU and no one in their CELL GROUP earns anything or TWELVE MEMBERS in your CELL GROUP 1 ASSEMBLY 1 each earn 118K because you taught them correctly what to do!? If you can do it for your first CELL GROUP where everyone participates just think of how strong and committed your CELL GROUP MEMBERS would be!
This is not about a few leaders making thousands of SPURT and everyone else does nothing! This is about building SPURT COMMUNITY LEADERS who will actually do something! I hope you are getting the picture clearly now?
The big money available is for building SPURT COMMUNITIES! If we don't do it who will? Who will teach your groups to make a difference and do beneficial projects in your community if you don't have the right attitude? This is not about making yourself rich although that will happen, it is about sharing the wealth and paying it forward to make sure everyone who wants this opportunity will have it for years to come!
So with these changes and the SPURT ACCOUNT requirement your candidates are making a commitment to at least try to build their CELL GROUP and get paid! We have thousands of people who have never gotten a SPURT ACCOUNT and do nothing for the good of their community in spreading the word of SPURT DIGITAL MONEY!
This stops now, they've shown their lack of involvement and when SPURT can be exchanged, they will have to get a SPURT ACCOUNT and make sure that anyone they want to be paid on has a SPURT ACCOUNT so even though they think they will wait and milk the system without doing any work it won't happen!
Those of you who have already received your SPURT for sponsoring efforts I hope you will go back and teach this message and get people prepared to get their SPURT ACCOUNT in order to receive payment and do something good for a change!
I'm sure you are all fed up with what the governments and bankers have done to you and your family, yet when offered the best opportunities on the planet to make these changes to free ourselves you don't even follow the instructions and know why you are doing this at all?
FOR THINGS TO CHANGE, I MUST CHANGE, FOR THINGS TO GET BETTER, I MUST GET BETTER! IF IT IS TO BE IT IS UP TO ME! I hope you all see this now and will spread the word correctly about our mission to make this world a better place! May Yahweh's blessings be upon you always!
Gary
Do you believe America's financial problems from 2008 have been fixed?
Do you think we are on the brink of another banking crisis, or a problem with our currency?
If you are concerned about these possibilities, you are not alone.
We are now facing serious economic problems in the United States.
And it's about to get much, much worse.
The evidence is piling up all around us...
In recent months, we've seen nearly $8 trillion disappear from world stock markets... and a whopping 70% of investors lose money in 2015.
Even the great Warren Buffett lost $11 billion dollars.
We're looking at a collapse in corporate bonds.. and plummeting oil and commodity prices.
Research shows the "too big to fail" banks, the top five largest financial institutions (the ones that were bailed out in 2008), are now 25% bigger than they were back then, and more dangerous than ever.
We've seen private businesses take on more debt than any time in the past 12 years, and an incredible 863 companies that have had their credit rating downgraded last year... the most since 2009.
I mean... even Wal-Mart announced the shutdown of more than 250 stores, worldwide.
This is what happens when our government embarks on a gross, out-of-control experiment, expanding the money supply 400% in just six years, and more than doubling our national debt since 2006.
It took our nation 216 years to rack up the first $8.5 trillion in debt... then just 8 more years to double that amount.
As someone who has been investigating this situation closely for years, who has built a $100 million business by capitalizing on expertise in finance and accounting... I am here to tell you with 100% certainty:
America is in for some major changes to our economy, our country, and our very way of life over the next five years.
The way you live, work, travel, retire, invest... everything is going to change. Some of it in ways most people would never expect.
A "new" crisis of epic proportions is already underway.
Stocks will fall further. Bonds are going to collapse. Huge numbers of bankruptcies in the energy business may soon ripple through the financial system.
And eventually, we're going to have a major stock market crash -- and it will be worse than the one we experienced seven years ago.
We're going to have a currency crisis too - because investors and governments around the world will realize the U.S. dollar is not the safe haven it once was.
Sooner than most people think, we'll see the U.S. dollar lose it's "reserve currency" status, and this will make it much harder for our government to borrow money, and have our military stationed in more than 150 countries.
COME HELP US BUILD A SPURT COMMUNITY IN YOUR HOME TOWN!
September 15, 2016
Santiago, Chile
"Sir. SIR! This your bag," the TSA agent barked at me last week, more as a statement than a question.
"It is."
"Are you carrying any liquids?"
I knew immediately; I had forgotten about the bottle of water that I had shoved in my briefcase before checking out of my hotel.
They opened my bag and confiscated the water bottle immediately with an extra harrumph to make sure I knew that I had wasted their time.
Yeah, I get it. I broke the rule. But it's such a ridiculous rule to begin with.
Are we really supposed to pretend that Miami International Airport is any safer because there's a brand new, unopened Dasani bottle in the TSA wastebin?
You may recall how Istanbul's Ataturk Airport was attacked on June 28th by men armed with automatic weapons and explosives.
Ataturk was already one of the most security-conscious airports in the world-- you actually have to go through a security checkpoint just to enter the building, followed by a second security checkpoint on your way to the gate.
And yet, despite all of this extra security, 41 people were killed and hundreds more wounded in an attack that shows just how ineffective airport security really is.
Airport security isn't real security. It's merely the illusion of security-- a bunch of busybodies in uniforms enforcing pointless rules to make people believe that they're safer.
Candidly, our financial system has borrowed the same principle. There's no real safety in our financial system-- merely the illusion of safety.
Leading up to the 2008 financial crisis, most people thought the banks were safe.
After all, we've been told our entire lives that the banks are rock solid. What could go wrong?
This turned out to be an illusion. Banks had loaded up their balance sheets with toxic assets, rendering themselves completely insolvent. They started dropping like flies.
Bear Stearns, Lehman Brothers, Merrill Lynch, Washington Mutual, Wachovia... some of the most established banks in the US collapsed. Poof.
Ever since then, the banks, the US government, the Federal Reserve, and other financial regulators in the United States have been working to rebuild the illusion of financial safety.
Most notably came a bunch of laws and regulations like the Dodd-Frank Wall Street Reform and Consumer Protection Act, signed into law in 2010, designed to make the banks safer…
… or at least give the appearance that banks are safer. As you can imagine, these regulations have merely created another illusion of bank safety.
Today, former US Treasury Secretary Lawrence Summers published a new paper that slams these regulations for not having made the US banking system any safer:
"To our surprise, we find that financial market information provides little support for the view that major institutions are significantly safer than they were before the crisis and some support for the notion that risks have actually increased."
This is important. Most people have handed over their entire life's savings to financial institutions that are far, far riskier than we are led to believe.
Ask yourself-- does it really make sense to keep 100% of your savings in a financial system that goes through great pains to deliberately conceal the truth?
Why take the risk? Especially when all you really gain is a whopping 0.01% interest?
There are better options for your money.
We've talked about holding physical cash and precious metals-- which, in combination, is a great way to hedge risks in the banking system as well as the overall monetary system.
If these banking system risks ever do erupt into another financial crisis, having some physical cash means that at least a portion of your savings will be immune to the consequences.
Should that crisis turn into a full-fledged currency crisis, having some physical gold will shield you from those consequences as well.
And even if neither of those scenarios unfolds, it's hard to imagine you'll be worse off holding cash and gold.
Again, when interest rates are this low, there's almost zero opportunity cost in holding cash.
And gold remains one of the only major asset classes recognizable and marketable around the world, yet still FAR below its all-time high.
More on this tomorrow.
Plus, I'll send you some incredible examples of the illusion of safety in the banking system that are so ridiculous they would be comical if they weren't true.
Until tomorrow,
Simon Black
Founder, SovereignMan.com
Sept 14, 2016
Happy Wednesday Everyone!
I have good news and I have some not so good news! Please make sure you read all of this update as it going to outline changes in the way I have to do payroll for the ULTIMATE COLLEGE OF COMMERCE.
I have been receiving complaints from people who have been signed up without their authorization!
This has to stop TODAY!
Bad habits were formed by a few overly ambitious and in a few cases unscrupulous members who:
1) wanted you to send your candidates to them and they would place them under you on your behalf, you didn't have to do anything other than send their contact info to these leaders.
This is not the way the program was designed!
YOU are to sponsor three people, build a relationship with them and teach them to do the same=real people wanting to make this world a better place, real simple! I have harped on this time and time again but some of you think you know better? Look at what you've done by doing this! We have many members who have no clue of what to do or what the programs are about because there is NO RELATIONSHIP with them!
When somebody contacts me for help and says: "Please see me my reciprocate site. What does this mean? I misplaced it. How can you misplace a site? I have several people who are interested in signing up. Please contact your sponsor for assistance if you are talking about www.myfuelclub.net Read the welcome email attached! Buying spurts. You cannot buy SPURT and I don't know where this is coming from? You need to read the websites in the attachment and learn how these programs work!
Here's another one: Take me off your list. I never asked to be on it.
And this: Gary… I, personally, have a signed no one up to the program… However, the person I signed up under directly said that she would sign up three people she had already underneath my name… Perhaps that's how Ashley got signed up. Sorry for the mistake… And I personally do not know how to rectify this since I have a signed no one up… Larry
You can tell they have no relationship with their sponsor and have no clue of what they are talking about let alone need to be doing! How can we ever take back our sovereignty and make this world a better place when we don't even know how to work together? Sponsor three people that like you and trust you and you like and trust them and then help them to find their three people that they like and trust! Then teach them to do the same!
THAT IS HOW YOU BUILD A SPURT COMMUNITY!
It gets worse!
2) You decided to milk the system by sponsoring everyone you knew, family, friends, acquaintances, anyone you knew where you had their name, email and contact info then you signed them up to get the 2000.00SPU. Since you signed them up you either contacted them and got their sponsor link and signed up their second level members or you already had access to their email because you created the email account for them and them signed up members under them. VERY DISHONORABLE!
ABSOLUTELY DISGUSTING, THIS GREED THAT THESE DISHONRABLE PEOPLE ARE SHOWING!
3) You decided to sponsor anyone without their permission and it has become blatant abuse! Just like the member who sponsored a business and put their email as noreply@businessname.com ! How stupid can you be? Do you think I don't look at everyone who is coming into the database? Both Celia and I are aware of this abuse and it now comes to an end! UNBELIEVABLY DISHONORABLE!
It is my job to make sure we can sustain these benevolent programs to create SPURT COMMUNITIES around the world to help people get out of debt and bring COMMERCE THROUGH CAPITALISM to their local community!
Why do these people have to do these greedy and selfish things? I'm sure they are the same people who whine and cry and call foul against the fraudulent banking and government systems! SHAME ON YOU FOR YOUR HYPOCRISY AND GREED! YOU ARE NOT THE KIND OF PEOPLE I WANT IN UCofC/MF&GC!
The programs are easy enough to build wealth, it is so sad to see a few members always spoil it for everyone else! When I get complaints saying they did not asked to be signed up, they do not want to receive any more emails and they don't want to be a part of this "scam" which of course shows lack of knowledge, I have to take affirmative action!
SO AS OF TODAY NO ONE GETS PAID ANY SPURT UNLESS AND UNTIL THE MEMBERS THEY WISH TO BE PAID ON HAVE A SPURT ACCOUNT SET UP AND LISTED IN THEIR BACK OFFICE OF THEIR MY FUEL&GROCERY CLUB ACCOUNT.
YOU will instruct them to place their SPURT ACCOUNT NUMBER at the end of their first name like this "Gary 1243811 SPU". This format will show up in your back office downline and let you know when you should submit your payroll request email.
That is simple and easy to do and they have to do it and you as their responsible sponsor have to help them! This will confirm that you as their sponsor have instructed them to get a SPURT ACOUNT in order for you to both be paid.
This will ensure that there is a line of communication open between the true sponsor and the member and this will let me know that the member wants to be active at some point in the programs as they paid their 50.00 EURO to set up their personal account in order to eventually be paid for their sponsoring efforts. This solves this abuse situation without harming the RESPONSIBLE SPONSORS who truly wish to make this world a better place!
I wish to thank Valentin for providing me with a partial solution for these challenges; he's a true and responsible leader! THANK YOU VALENTIN!
Now if you are one of those members who have abused the UCofC/MF&GC you can't do it anymore!
A few of you need to be terminated for your blatant abuse under the POLICIES AND PROCEDURES 6 & 13: PLEASE READ AND INTERNALIZE!
RESPONSIBILITY OF SPONSORS
6) All MYFUELCLUB INDEPENDENT AFFILIATE MEMBERS have an obligation to help supervise and train the new MYFUELCLUB INDEPENDENT AFFILIATE MEMBERS that they sponsor. Sponsors are advisors and mentors to their new Down-Line MYFUELCLUB INDEPENDENT AFFILIATE MEMBERS. (Note: Down-line MYFUELCLUB INDEPENDENT AFFILIATE MEMBERS are defined as any Independent Affiliate that is directly sponsored by an up-line Independent Affiliate, or any other Independent Affiliate within a direct line to that Independent Affiliate.) As an Independent Affiliate with sponsored down-line MYFUELCLUB INDEPENDENT AFFILIATE MEMBERS, and their sponsored MYFUELCLUB INDEPENDENT AFFILIATE MEMBERS (your "club organization"), you must maintain sufficient contact and communication with your sponsored MYFUELCLUB INDEPENDENT AFFILIATE MEMBERS to help them succeed in their advertising of MYFUELCLUB. This should include written correspondence, telephone contact, email contact, newsletters, personal meetings, and training sessions.
UNETHICAL BEHAVIOR OR ACTIVITY
13) MYFUELCLUB INDEPENDENT AFFILIATE MEMBERs will be immediately terminated, if, at the sole discretion of MYFUECLUB, they are determined to be carrying out unprofessional or unethical marketing efforts or practices while representing the MYFUELCLUB.
I have a few members under investigation and will deal with these members on an individual basis. More info to come.
Now let's do the right thing and follow these new procedures to protect everyone against abuse, bad sponsoring and payment to greedy people who are sucking up the SPURT that could be going to you as a RESPONSIBLE SPONSOR!
Here's a CLARIFICATION: Regarding the removal of the 100K SPURT COMPLETION PAYMENT FOR CELL GROUPS IN UCofC.
"What I said was that when we can exchange SPURT to USD or Euro I would drop the completion payment from 100K after the first month to 75K, for the second month to 50K, for the 3rd month to 25K, and eliminate it for the 4th month and then it would be the 18K from that point forward! Who can't live on 18K?" REMEMBER this only starts to happen when the EXCHANGE OF SPURT CAN TAKE PLACE, NOT BEFORE!
NEW EARNING OPPORTUNITY! Here's an opportunity to earn even more SPURT presented by Michel Cockerham! THANK YOU Michel!
I have reviewed her request and proposal and have decided that with a couple of modifications to her original presentation to implement this new payment procedure as of today!
We need to bring businesses into using SPURT ASAP and I'm now going to compensate you even more than the 2000.00 SPURT you would receive by bringing them into UCofC/MF&GC Membership!
If you educate them and have them set up their business to accept a portion of SPURT for SPURT ACCOUNT HOLDERS to buy their products and services I will provide you with an additional 2000.00SPU! You will have them send me a confirmation email that they will provide a partial use of SPURT to any SPURT ACCOUNT HOLDER via the internet or using the SMART PHONE APP in their store. They will need to post that they accept SPURT in their establishment and they will post same on their website. They will get a free listing of their website on the soon to be created www.21stcenturyprofits4u.com website and I will be available to show them how to use the http://www.change2100.com/THIBMART/ and you will be compensated additional funds as their SPONSOR!
So let's get into our COMMUNITIES and bring every business on board NOW!
If you have any money at all in a U.S.-based savings account, please pay close attention...

A high-profile ex-CIA adviser just released a shocking presentation that details a nasty global event about to rock the markets...

And it could spell disaster for the U.S. dollar.
When this event hits - on Sept. 30, at around 4 p.m. EST - it could completely gut the U.S. stock market, wipe out U.S. jobs and vaporize your retirement savings.
But here's the good news...
Since you've got advance warning, you can actually profit during the fallout, while everyone else scrambles to save their retirement accounts...

Click here to find out how.

Regards,
Joe Schriefer
Publisher, Agora Financial